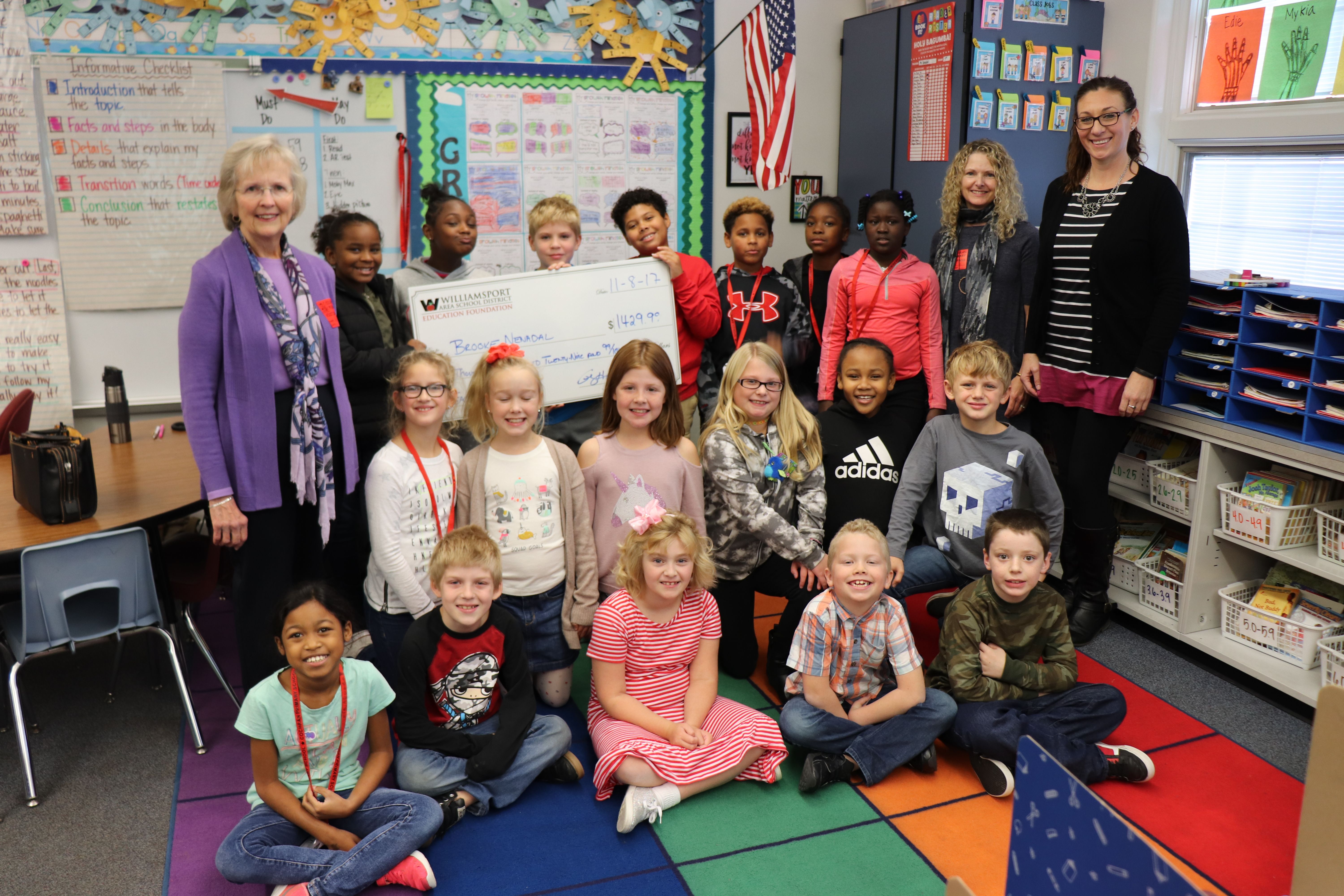 WILLIAMSPORT, Pa. (NOVEMBER 8, 2017) — The Williamsport Area School District Education Foundation (WASDEF) announced the distribution of $6,401 to fund five classroom projects and programs today as part of the organization's annual Teacher Mini-Grant Program.
The program is designed to give district teachers the ability to enhance curriculum and instruction through compelling, innovative programs and projects by applying for up to $1,500.
"We received eight proposals this year, totaling more than $10,820 in requests," said Executive Director Greg Hayes. "Every year, the Foundation's review panel faces the challenge of where to best direct the funding available with our mission and philosophy in mind. The five awarded today truly captured the intent of the grant program. Collectively, they'll have a direct student impact on about 670 students, with an ancillary benefit to hundreds more."
The following is a listing of this year's grantees:
Dustin Brouse; World History Interactive Studio; Williamsport Area Middle School; $1,494: Students will use emerging technologies to conduct research, create 3D scans, video productions and 360-degree videos to bring history alive. The World History Interactive Studio will provide students with an active learning experience, incorporating science, technology, engineering and math (STEM) concepts that are applied and used in real-world settings. Using this technology, students will be able to form a partnership with the Archaeology Department at Lycoming College. Students' finished work will be available for future students to view and learn about world history content.
Jim Ellis; Stevens Little Libraries; Stevens Primary School; $841: By purchasing five Go Plastics Street Smart outdoor publication racks, Stevens Little Libraries (i.e. lending libraries) will be placed throughout the primary school's neighborhood. The goal is to increase the accessibility of books for students outside the school day — even in the summer — to encourage and promote independent reading. Locations for libraries, selected based on safe walking distances the building's students, would be: right in front of the school along Louisa Street, Second and Walnut streets, Wildwood Boulevard and High Street, The Family Dollar along West Fourth Street, and Second and Park avenues.
Mallory Myers; Emotional Regulation Classroom Toolbox; Lycoming Valley Intermediate School; $1,202: Supplementing Zones of Regulation, a counseling curriculum already in place that teaches self-regulation and emotional control, the emotional regulation classroom toolboxes (i.e "Back-to-Green Toolboxes") will provide teachers with various supports for students to use to help them deescalate in the classroom. Students will be trained on how to use each of the tools available, as well as provide classroom expectations for the toolbox. The goal is to allow students to identify when their behaviors are escalating and use the Back-to-Green Toolbox in the classroom, thus receiving less office referrals and removing that barrier to learning.
Brooke Nenadal; Third Grade RoCs (RObotics in ClassroomS); Cochran Primary School; $1,430: Through hands-on learning, students will design, implement and practice robotics technology by using Dash-and-Dot robots. The program will introduce real-world practice of coding, programming, robotics and computer science, incorporating STEM concepts. The Dash-and-Dot robots would use five apps to teach design thinking, spatial awareness, scientific thinking, mathematical reasoning, creative storytelling and computational thinking to enhance the curriculum.
Tara Yokitis; Planetarium Upgrades; Williamsport Area High School; $1,435: The high school's planetarium, nearing its 50th year in operation. While functional, it has seen little if any upgrades since the building opened in 1972 and faces the risk of irreparable failure. A short-term solution to upgrade the physical aspect of the astronomy curriculum is being proposed in conjunction with the science department and WAHS senior LJ Boone. Boone has engineered a plan that would use a curved mirror, large projector and a fish-eye lens mounted to the current planetarium dome to give the department the capability to run a digital program, like Stellarium, on the dome. While a short-term upgrade, it's been verified that aspects of this project could be embedded in any future, more comprehensive upgrades. The upgrade also could lead to a reboot of the fifth-grade planetarium shows.
The Teacher Mini-Grant Program was established in 2005 and this year marks more than $95,000 that have been awarded to 84 classroom programs and projects.
The WASD Education Foundation is a 501(c)(3) nonprofit organization dedicated to enhancing the educational experience for students by funding programs, projects and initiatives.