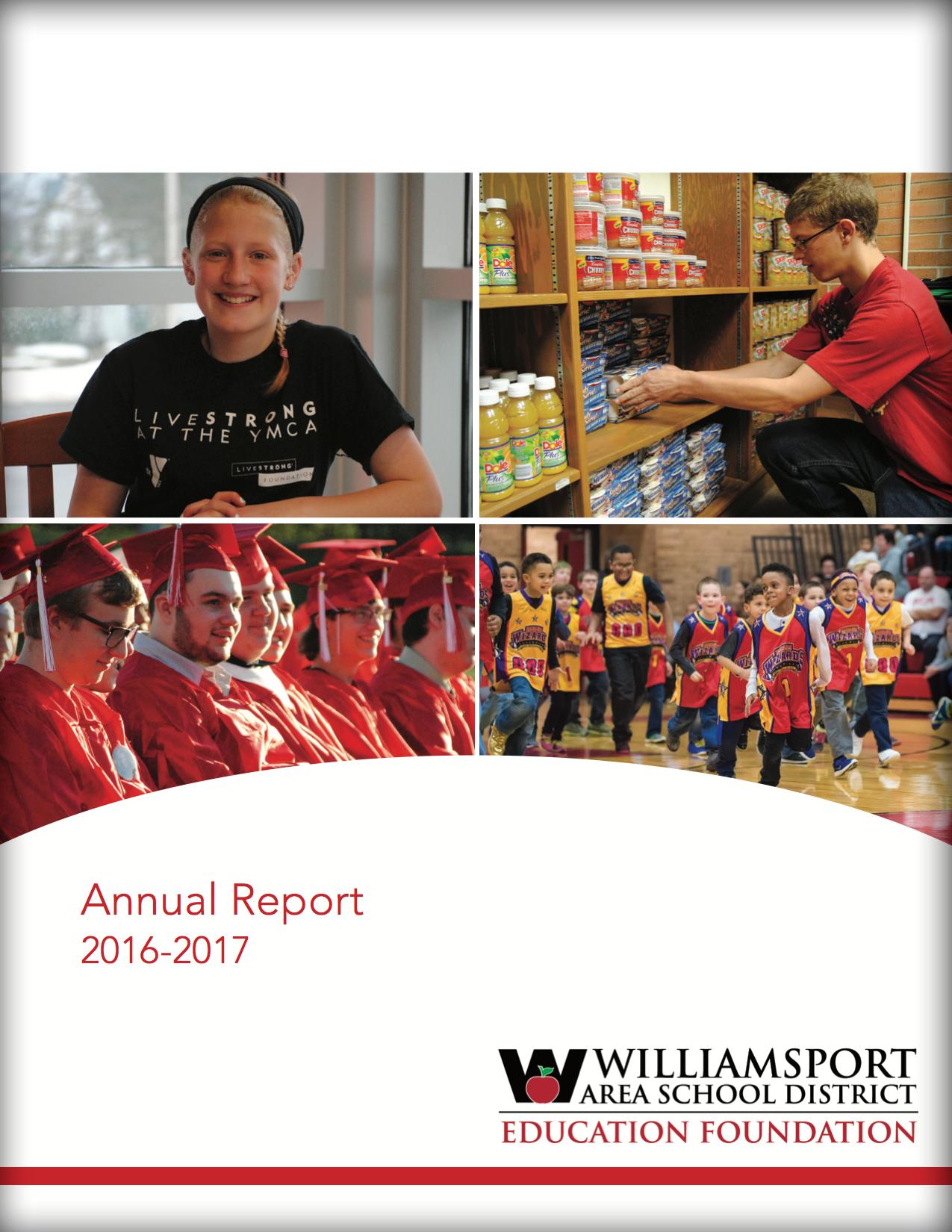 WILLIAMSPORT, Pa. (DECEMBER 5, 2017) — The Williamsport Area School District Education Foundation (WASDEF) today released its 2016-2017 Annual Report that highlights the organization's key activities and financial statements between July 1, 2016, and June 30, 2017.
"This year's annual report serves as an answer to the reason why we exist," state WASDEF Board President Trisha Gibbons Marty and Executive Director Greg Hayes in the report's introduction. "(It's) satisfying to see the essence of our existence alive in the programs we supported during the 2016-2017 school year. The compass that has guided us for more than a decade has been succinctly captured in our new mission statement that we're introducing here for the first time: 'Creating powerful classrooms and inspiring futures.' "
Grants awarded to WASD programming from the nonprofit during the last academic year totaled $428,795, supporting capital improvement projects, scholarships, educational and cultural programming, and athletics. Funding last year had direct impact on more than 1,300 students. Total revenue, including in-kind donations and annual pledge payments, totaled $413,094.
The report also highlights the impact of Educational Improvement Tax Credit (EITC) Program contributions the district received from businesses through the First Community Foundation Partnership of Pennsylvania. Through that program, an additional $21,699 was granted to venture and educator-in-residence programs. Likewise, $21,067 in business donations were received from Citizens and Northern Bank, First National Bank, Jersey Shore State Bank, Nubro Inc., and Woodlands Bank.
The WASDEF 2016-2017 Annual Report is available in print at the District Service Center, 2780 West Fourth St., or can be viewed online at www.wasd.org/foundation.
The WASD Education Foundation is a 501(c)(3) nonprofit organization dedicated to enhancing the educational experience for students.