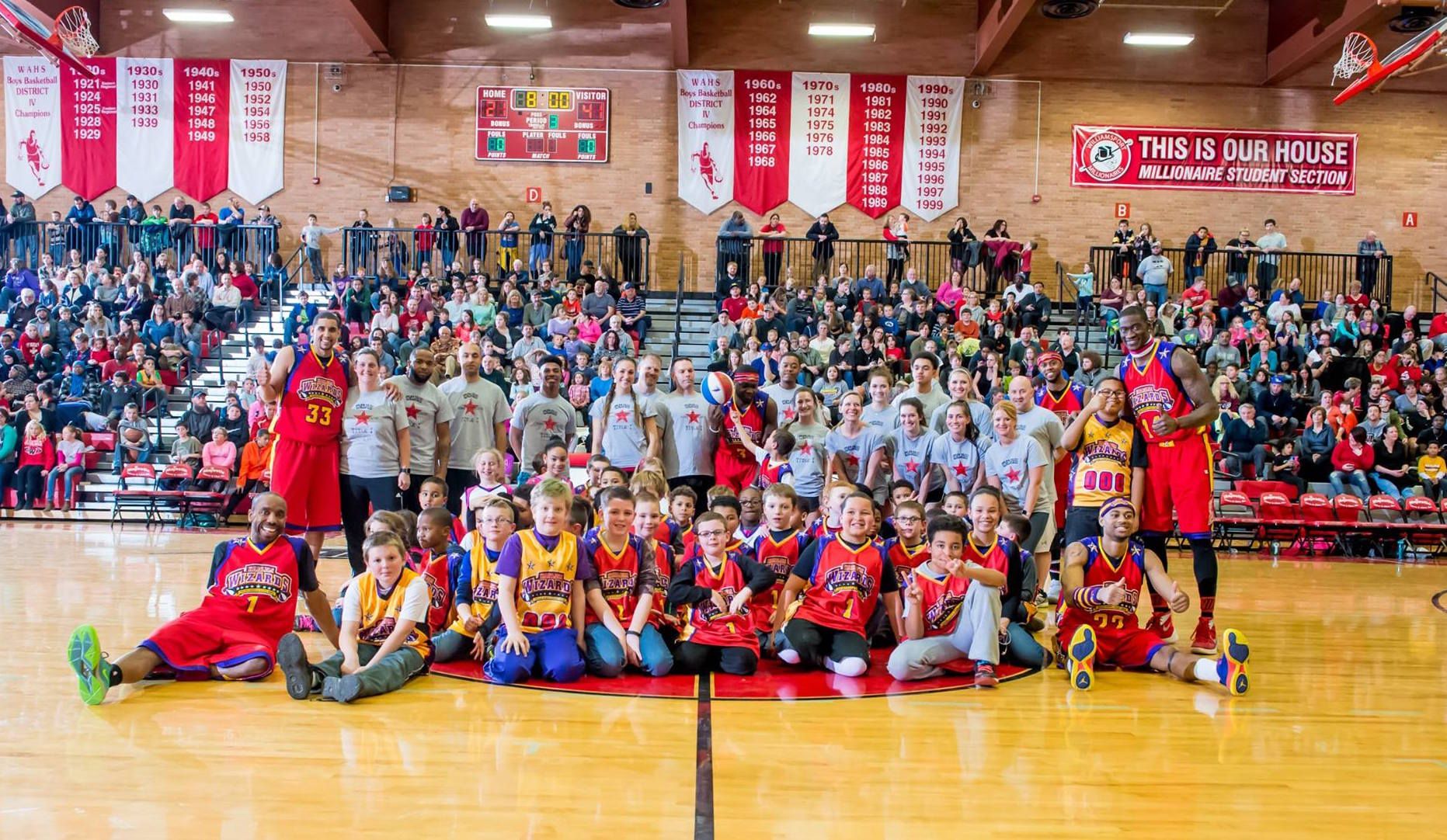 WILLIAMSPORT, Pa. (JANUARY 3, 2018) — The Harlem Wizards will once again return to the Magic Dome at Williamsport Area High School — for one last time — in a fundraiser benefit game for the Williamsport Area School District Education Foundation (WASDEF).
The game begins at 6:30 p.m. on Monday, Feb. 12. Doors open at 5:30.
From crazy slam-dunks to three-man alley-oops, the New Jersey-based organization promises a night of spontaneous humor and excitement in "basketball wizardry on the hardwood."
The Education Foundation is in the midst of coordinating all aspects of the event and is finalizing its "Millionaire Magicians" team, comprised of teachers, principals, staff and students from across the district who will go up against the Wizards in a performance game.
"We're excited to bring back an event that's proven to be family-friendly for the community and one that ultimately benefits our students through the Foundation's annual fund," said WASDEF Executive Director Greg Hayes.
The district's Title 1 program once again will hold its annual family night in conjunction with the game. For the last three years, the department has sponsored a book giveaway and provided information on how to support reading at home.
As for the game itself, the Wizards are sending a new team to the Magic Dome, and a special basketball mini-showdown between fourth- and fifth-grade students is planned.
"Along with a brand-new team, we're expecting to have several new team members from the district playing as well, so audiences are promised that they won't be seeing the same show," Hayes said. "We want to keep it fresh each year and give the audience something new to look forward to. This year, during the third period, we're having a team of fourth- and fifth-graders from Curtin and Lycoming Valley play against each other to get them on the court and have some fun."
This year will mark the fifth and final time — at least for now — for the event that made its Magic Dome debut in 2014. Since then, it's helped generate more than $44,000 for WASDEF.
"Each year, the event has surpassed our expectations, and each year, it's been hugely successful, thanks to all the families who came out to see the show," Hayes said. "Last year, we had nearly 2,000 people attend who helped us raise over $11,000. It's been a great run, the community's loved it, but we feel it's time to take a bit of a hiatus from this particular event and try our hand at something new."
Tickets go on sale Monday, Jan. 8, and are $7 for students and $10 for general admission in advance; at the gate, tickets will sell for $8 for students and $11 for general admission.
Tickets will be available at the following locations: Community Arts Center Box Office, 220 West Fourth St.; Robert M. Sides Family Music Center, 201 Mulberry St..; and the Genetti Hotel, 200 West Fourth St., an event sponsor.
Tickets also will be available for purchase online.
The WASD Education Foundation is a 501(c)(3) nonprofit organization dedicated to enhancing the educational experience for students.