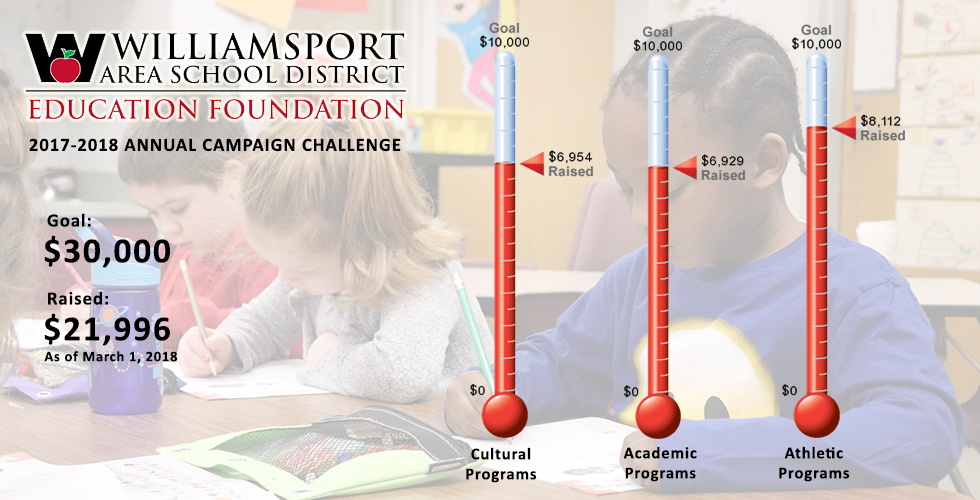 WILLIAMSPORT, Pa. (MARCH 1, 2018) — Due to meet the halfway mark later this month, the Williamsport Area School District Education Foundation (WASDEF) provided an update on its 2017-2018 Annual Campaign, announcing it has raised $21,996, or about 73 percent, of its $30,000 challenge goal.
Launched in December, the annual campaign opened with a matching challenge to the community after three donors each committed $10,000 to establish separate endowment funds for the district's academic, cultural and athletic programs.
"The challenge presented was that we must raise $10,000 in each of these program areas by June 30 in order for this to happen," said Executive Director Greg Hayes.
Recently, a fourth challenger stepped forward to offer a $30,000 commitment to establish an unrestricted endowment fund if WASDEF reaches the $30,000 goal.
With just about $8,000 left to raise between the program areas, WASDEF has, to-date, raised $8,112 for athletic programs; $6,953 for cultural programs; and $6,929 for academic programs.
The establishment of the endowment funds at the Education Foundation will set the stage in building a future, permanent funding source for these program areas as part of WASDEF's budget enhancement work for the district and for the advancement of its mission of creating powerful classrooms and inspiring futures.
WASDEF is the recognized nonprofit affiliate of the school district. Led by a 20-member volunteer board of directors, the Education Foundation facilitates charitable giving and permanent legacies based on individual areas of interest in educational innovation, the arts, athletics and scholarships.
For more than a decade, the organization has been supporting students and teachers across the district with the financial resources provided by donors. Over the past five years, WASDEF has both raised and allocated more than $1.6 million to the district. In that same time, it also has grown in asset value by $466,000.
For more information, or to make a gift to the WASDEF's annual campaign in an area that speaks most to your philanthropic goals, click here, or call the Foundation office at 570-327-5500 ext. 40602. Gifts also can be made by check and sent to 2780 West Fourth St., Williamsport, Pa., 17701.