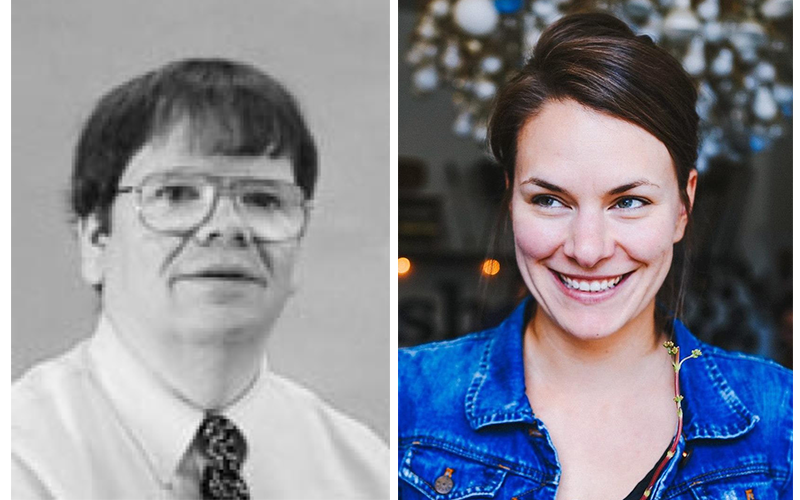 WILLIAMSPORT, Pa. (MARCH 14, 2018) — It could be said that Caitlin Winner's future as a product designer for Facebook began on accident during her junior year at WAHS, when she "stumbled into photography class with Mr. Kelchner."
It was then that the 2001 grad was introduced to an early version of Adobe Photoshop, which captivated her interest to the point that she actually skipped health class to spend hours "painting" in the computer program. Her final two years at WAHS sent her on a trajectory to a career she ultimately credits to her late art teacher, Mr. Thomas Kelchner.
Kelchner, a 22-year veteran of WASD, passed away in 2006.
"Students were exposed to the history of a given discipline as well as the most modern tools available," Winner remembers. "We studied Casablanca, Fantasia and Hitchcock films, and we spliced VHS tapes by hand. We learned how to develop black-and-white film in the dark room, but we also had access to a large-format digital printer and, later, a brand-new digital video editor."
Winner said Kelchner "bravely brought these cutting-edge technologies into his classroom knowing that he would be learning the tools right alongside his students."
"As a high school student, the competitive advantage that came from knowing how to manipulate images on a computer earned me my first part-time job editing logos to be printed on corporate merchandise," she said. "During college, I taught myself how to build websites and program Flash animations. Later, I became a full-time designer, co-founded a startup, and eventually was hired by Facebook as a product designer, where I still work today."
She said she attributes much of her success to the things she learned from Kelchner, such as "how to be excited by, and not afraid of, new technologies, and, most importantly, to be confident that I could figure things out along the way."
To honor his memory and his "open-minded and forward-thinking approach to teaching art," Winner endowed the Thomas Kelchner Memorial Scholarship for the Arts. The fund will provide financial support to graduating seniors in good academic standing who have demonstrated outstanding aptitude in the visual arts. It's Winner's hope that the scholarship will help recipients realize their own successes in the discipline.
WASDEF is the recognized nonprofit affiliate of the school district. Led by a 20-member volunteer board of directors, WASDEF facilitates charitable giving and permanent legacies based on individual areas of interest in educational innovation, the arts, athletics and scholarships.