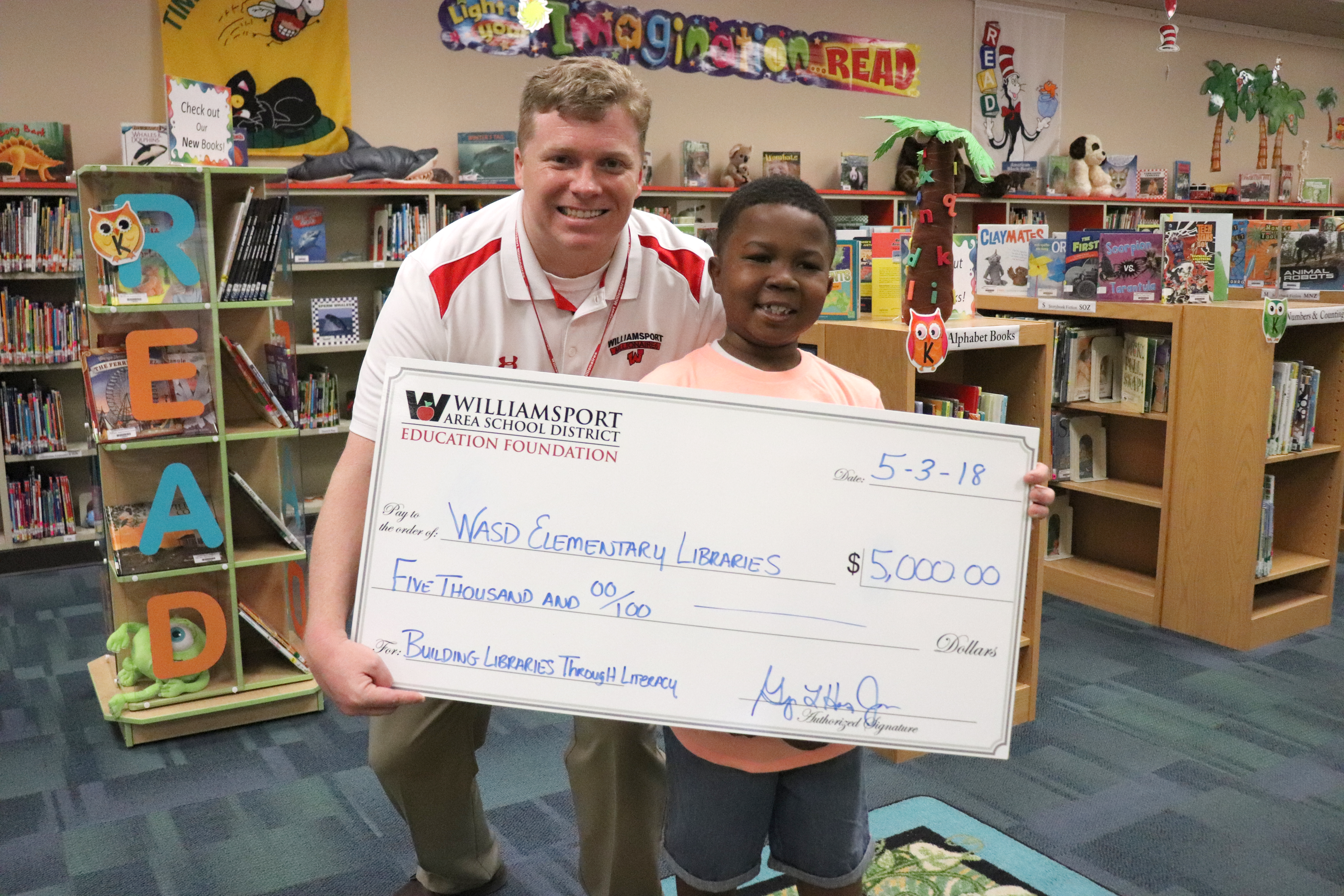 WILLIAMSPORT, Pa. (MAY 7, 2018) — With just one month left before summer vacation, the Williamsport Area School District Education Foundation (WASDEF) announced its $5,000 grant to WASD's elementary library system in support of its new summer reading effort, "Millionaires Read."
The grant will be used to purchase brand-new books to recognize and honor incoming kindergarten through sixth-grade students who complete the program. Each book purchased will be dedicated to summer readers and installed in the students' respective school libraries as part of WASDEF's "Building Libraries Through Literacy" program.
The program has provided more than 950 books to the elementary libraries since 2011.
This year, WASDEF has partnered with Otto Bookstore, which has committed to also provide a $5 gift card to each program completer to promote the growth of home libraries.
"This program represents an ongoing effort for the Education Foundation to support literacy and promote reading in the district," said WASDEF Executive Director Greg Hayes. "It's a great partnership that also has a tangible benefit in increasing the inventory of not only the elementary libraries but also the students' book collections at home."
Elementary Librarian Sarah Bohnert expressed her gratitude to the Foundation for the grant, noting that WASDEF "continues to make a huge difference in the lives and learning" of district students.
"The WASD elementary libraries have greatly benefited from its generous support," Bohnert said. "This grant encourages many of our students to read throughout the summer and promotes opportunities for them."
The district's goal is to have at least 20 percent, or about 500 elementary students, complete the "Millionaires Read" program this summer.
All incoming kindergarten through sixth-grade students will be automatically enrolled in the program when they receive their reading logs, which will be distributed by the end of the school year. To successfully complete the program, students must fill out and return their reading logs to their respective main offices when they return to school year on Aug. 27.
WASDEF is a recognized nonprofit affiliate of the school district. Led by a 20-member volunteer board of directors, the Education Foundation facilitates charitable giving and permanent legacies based on individual areas of interest in educational innovation, the arts, athletics and scholarships. For more information, visit www.wasdeducationfoundation.org.