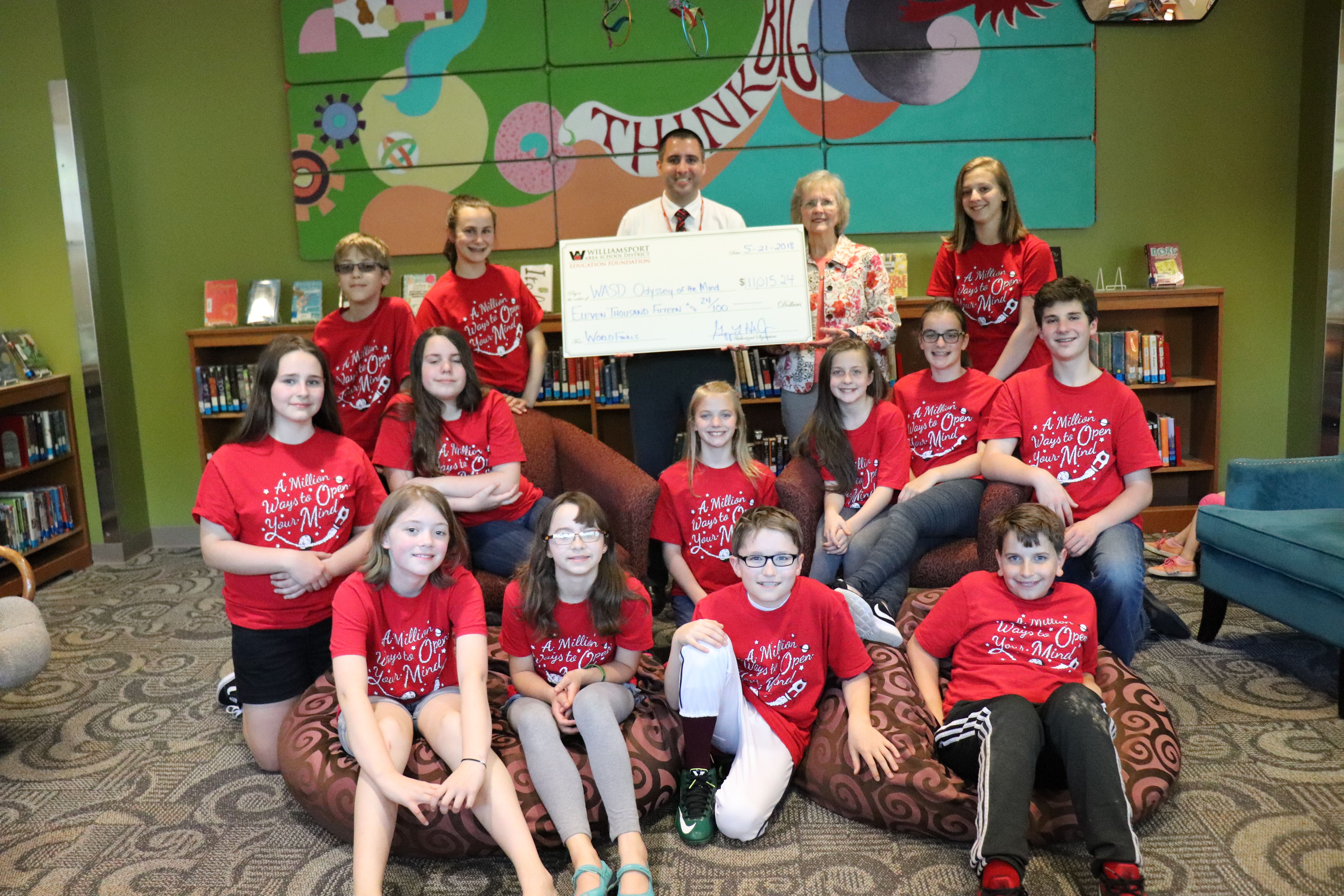 WILLIAMSPORT, Pa. (MAY 21, 2018) — The Williamsport Area School District Education Foundation (WASDEF) granted $11,015 to the district's Odyssey of the Mind teams headed to the World Finals this week at Iowa State University.
The Education Foundation was able to contribute a combination of 38 gifts received from those in the community, area businesses and WASDEF's unrestricted fund.
Of the six contending teams from WASD who competed at the state competition in April, two teams representing Curtin Intermediate and Williamsport Area Middle schools advanced to the World Finals. Listed below are those ISU-bound teams and problem category:
Curtin Intermediate School: "A Stellar Hangout," coached by Bret Southard, Denise Southard and Hao Tran. Team members: Olivia Ciabattari, Reese Kirk, Ross Mahler, Alanna Ramos, Lillyana Sponhouse, Muireen Tran and Tyler Williamson.
Williamsport Area Middle School: "Mockumentary! Seriously?," coached by Beth Lewis and Liz Manetta. Team members: Mia Clark, Jack Klingler, Mairead Ferry, Kendall Kelley, Sydney Kelley, Lisa Lewis, and Ben Manetta.
Last year, two teams from Curtin and Williamsport Area High School were successful in the program's regional, state and world competitions. Those teams competed at the World Finals at Michigan State University, during which WAHS placed 14th and Curtin 22nd.
WASDEF is the recognized nonprofit affiliate of the school district. Led by a 20-member volunteer board of directors, the Education Foundation facilitates charitable giving and permanent legacies based on individual areas of interest in educational innovation, the arts, athletics and scholarships. For more information on the foundation, or to make a gift, visit www.wasdeducationfoundation.org.