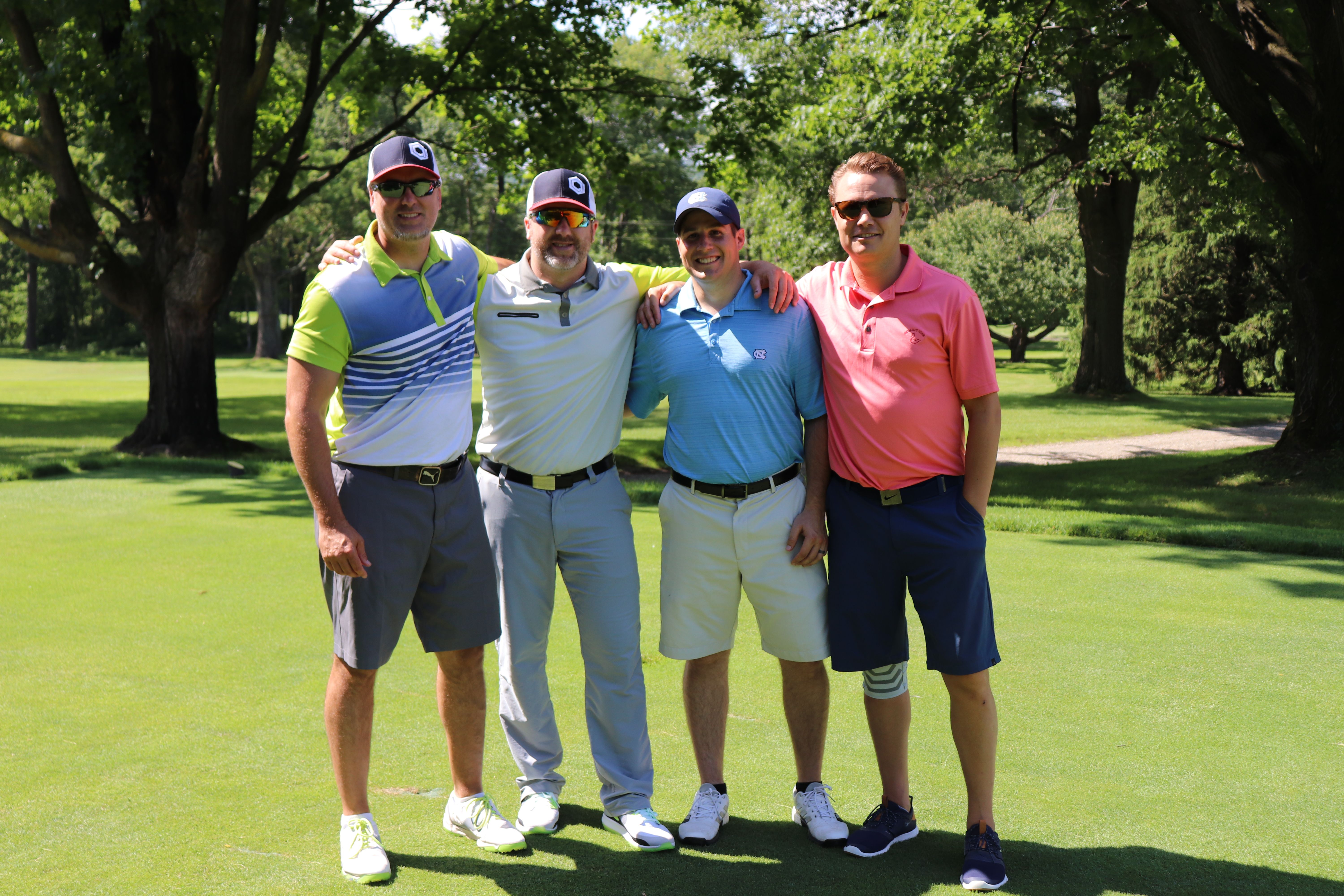 WILLIAMSPORT, Pa. (JUNE 12, 2018) — The Williamsport Area School District Education Foundation (WASDEF) held its 13th annual golf outing at The Williamsport Country Club (WCC) on Monday to benefit its newly established Athletic Program Endowment Fund.
An early afternoon shotgun start sent 96 golfers onto the course.
The first-place foursome (shown at right) with a score of 61 included Kory Datres, Nick Brayton, Chris Spangler and Bob Spangler. Each won a $100 gift card to the WCC Pro Shop, a set of golf balls and a three-month membership to the River Valley Regional YMCA.
The second-place team with a score of 62 (30 on the back 9) included Kirk Felix, Mark Felix, Tyler Barth and Mike Davison. Each won a Williamsport Millionaires stainless-steel coffee thermos and a $75 gift card to the WCC Pro Shop.
The third-place team with a score of 62 (31 on the back 9) included Bill Keiser, Ben Breen, Jake Sekel and Bruce Smithgall. Each won a $50 gift card to the WCC Pro Shop and their choice of Williamsport Millionaire apparel.
Two contest hole prizes also were awarded. Seth Sebring won longest drive and Chris Petrilos won closest-to-the-pin. Each were awarded a brand-new cornhole set, constructed by Williamsport Area High School construction trades students, and $30 gift cards to the WCC Pro Shop.
Other tournament events this year included its new cash raffle. Tickets were sold across the district through the spring for individuals to earn their chance to win one of the 30 cash prizes, totaling $6,125.
From among the 1,410 tickets sold, the top two prizes, $2,000 and $1,000, were awarded to J. Michael Wiley and Patti Jackson-Gehris, respectively.
Three won $500: The Confair Family, Jamie Furey and Ciara Long.
Ten won $100: Bill Fish, Dick Grove, Joe Heim, Azelyn Hein, Peg Howard, Todd Kelley, Anne Logue, Devin Marty, Judy Saiers and Lori Williams.
Ten won $50: Natalya Callaghan, Lisa Cramer, Chuck Crews, Ashley Glace, David Gross, John Grove, Steve Mondell, Ralph Nardi, Jeff Robbins and Liz Shoemaker.
Five won $25: Sarah Bohnert, Marcella Fisher, Christine Kavanagh, Zac Taylor and J. Michael Wiley.
The WASDEF golf tournament, historically held every June, has benefited the WASD athletic program. The event has earned an excess of $65,000 since its inception to benefit the program's capital needs, such as the WAHS Fitness Center, which opened in 2014, and the improvements made to STA Stadium from the Foundation's $2.7 million Return to Glory capital campaign.
While this year's tournament net proceeds are still being calculated, funds raised from the event will be designated for the Athletic Program Endowment Fund at WASDEF. Established in 2017, the endowment fund will provide a permanent funding source to help offset the capital improvement and/or program needs of the athletic department.
"Thanks to the community for supporting the event again this year," said Greg Hayes, WASDEF executive director. "We could not be successful without our generous sponsors, donors, golfers and volunteers."
Hayes thanked the golf tournament committee: Trisha Gibbons Marty, Rose-Marie Gross, Darnell Hayes, Sean McCann, Patrick Ross and Randy Zangara. Major sponsors of the tournament included: Aramark, The Nutrition Group and The (Re)Imagination Group.
WASDEF is a recognized nonprofit affiliate of the school district. Led by a 20-member volunteer board of directors, the Education Foundation facilitates charitable giving and permanent legacies based on individual areas of interest in educational innovation, the arts, athletics and scholarships. For more information, visit www.wasdeducationfoundation.org.