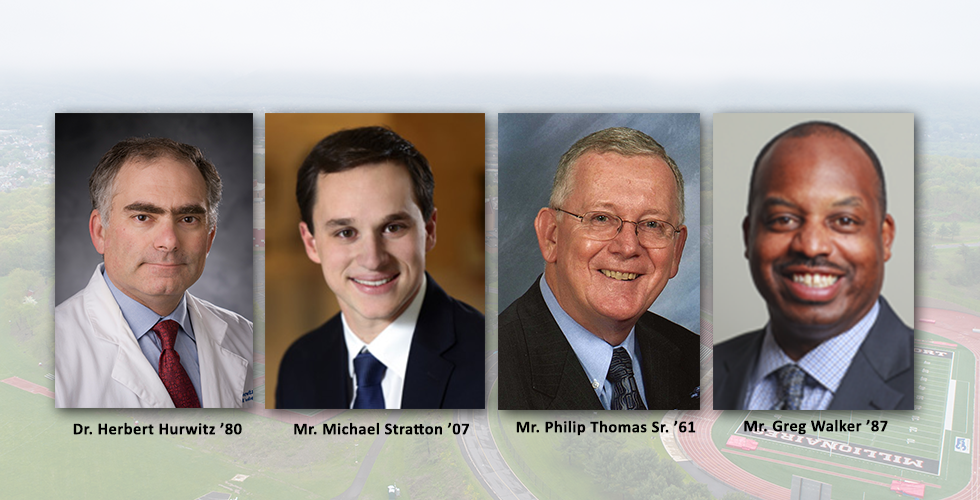 WILLIAMSPORT, Pa. (AUGUST 1, 2018) — The Williamsport Area School District Education Foundation (WASDEF) has named four Williamsport Area High School alumni who will receive its 2018 Distinguished Alumni awards.
The following individuals have been notified of their selection and have been invited to accept their award at WASDEF's inaugural Donor and Alumni Appreciation Event on Sept. 20 at Trade and Transit Center II, where they will be officially inducted into the Distinguished Alumni Wall of Fame.
Dr. Herbert I. Hurwitz '80 will receive the Distinguished Alumni Humanitarian Award.
Following graduation from WAHS, Hurwitz earned his medical degree from Thomas Jefferson University in Philadelphia.
He began his career as a medical resident in internal medicine at Michael Reese Hospital & Medical Center in Chicago in 1988. In 1992, he became a medical oncology fellow at Johns Hopkins University, Baltimore, where he also obtained his master's degree in clinical investigation. He joined Duke University in 1996 as an associate professor of medicine and later became the clinical director of the Duke Phase I Program, one of only 14 National Cancer Institute-sponsored Phase I Centers of Excellence.
Hurwitz has spent his career researching gastrointestinal cancers, overseeing clinical trials of new anticancer drugs, particularly anti-angiogenic agents, drug combinations and radiotherapy-containing regimens. He also was the lead investigator of the IFL-Bevacizumab (Avastin®) study for metastatic colorectal cancer in the early 2000s. The study introduced an added agent to chemotherapy that essentially starved cancerous tumors by inhibiting blood supply. The study yielded promising results that not only slowed progression of the disease but prolonged patient survival.
While recently retired from Duke, Hurwitz now serves as the principal medical director of cancer immunotherapy development at Genentech in San Francisco.
Michael D. Stratton '07 will receive the Distinguished Young Alumnus Award.
After graduating from WAHS, Stratton earned a bachelor's degree in economics from The Wharton School at the University of Pennsylvania.
He began his career in 2011 at Deutsche Bank Securities in New York City where he was a part of the Real Estate Situations Group focused on debt investment, primarily in the real estate sector. In 2013, he joined Artemis Real Estate Partners in Washington, D.C., a women-owned real estate private equity firm, where he works as vice president on the acquisitions and asset management team. At Artemis, he focuses on all asset classes with a specific focus on investments in debt and hospitality sectors.
Stratton also is dedicated to civic engagement and community service. He was instrumental in the early stages of the Favors Forward Foundation, a nonprofit that assists those living with unexpected, life-changing hardships in the Williamsport area. His involvement with Favors Forward continues today as both a volunteer and advisor. As a Penn student, he worked with Rebuild Philadelphia, a revitalization program that invests in communities and that are in most need of support, with a particular focus in West Philadelphia.
He resides in the Bloomingdale neighborhood of Washington, D.C.
Philip M. Thomas Sr. '61 will receive the Distinguished Alumni Service Award.
Thomas earned his bachelor's degree in secondary mathematics from Bloomsburg State College (University), a master's degree in teaching of mathematics and administrative certification from Bucknell University.
He began his more-than 35-year career in education as a math teacher at WHS in 1965 before becoming an assistant principal in 1973. He was named head principal in 1991 and served in that role until 2000, when he became an administrative consultant for the district before retiring in 2002.
Over the span of his career, Thomas served in leadership roles on various committees and boards in the Williamsport community. From among them, he served on boards for the Pennsylvania School Press Association, the Lycoming County Advisory Board of the Hemlock Girl Scout Council, and a number of committees for the Pennsylvania School Retirees Association (PASR), and the Mutual Ministry Committee at St. Mark's Lutheran Church. He was chairman of the "Wolf for Mayor" campaign from 2002-2007. He also helped establish the Williamsport Area School District Education Foundation and served on the board for 12 years (2004-2016), and led the organization as its president from 2004-2009.
Today, he continues to serve on the executive committee for the Lycoming Chapter of PASR. He remains an active member at St. Mark's Lutheran Church, acting as an assisting minister, a lector, usher, church council and is on the Family Promise team.
He and his wife, Barbara, reside in Williamsport. Together, they have two children, Rebecca and Philip Jr.
Greg Walker '87 will receive the Distinguished Alumni Achievement Award.
Walker earned a bachelor's degree in elementary education from Syracuse University and his master's degree in educational administration from State University of New York College at Oswego.
Following numerous athletic achievements at the high school and collegiate levels, Walker began his career in educational administration in 1998 as a principal at Rome City School District in Rome, N.Y. There, he became the school's first African American principal. In 2000, he became a principal at Fowler High School in Syracuse, N.Y. During his time there, Walker was highlighted by the Commissioner of Education in New York for the school's academic performance through a statewide video, "New York Learns, Closing the Gap."
Starting in 2004, he worked as the executive director of major accounts and as national manager for K-12 institutional relationships at The College Board. In 2009, he was named as the assistant superintendent of secondary education for School District U-46 in Elgin, Ill., a city about 35 miles northwest of Chicago. For more than three years, he helped lead U-46, Illinois's second largest school district, which serves about 40,000 students.
Since 2012, he's worked as the Midwestern regional vice president at The College Board in Chicago.
Walker has been a nominee for National Teacher Award Honors in 1993, a Scholar-Athlete winner for the NAACP in 1992 and a Scholar-Athlete winner for Syracuse University football at the Peach Bowl in Atlanta in 1990.
He and his wife, Adina, reside in Independence, Ohio. Together, they have three children, Nyla, Joshua and Caleb.
This year will make for 16 graduates who will have received Distinguished Alumni awards since the program began in 2012. For a full listing of previous inductees, or for more information on the program, visit www.wasdeducationfoundation.org.
About the Williamsport Area School District Education Foundation
WASDEF is a recognized nonprofit affiliate of the Williamsport Area School District. Led by a 20-member volunteer board of directors, the Education Foundation facilitates charitable giving and permanent legacies based on individual areas of interest in educational innovation, the arts, athletics and scholarships. For more information, visit www.wasdeducationfoundation.org.