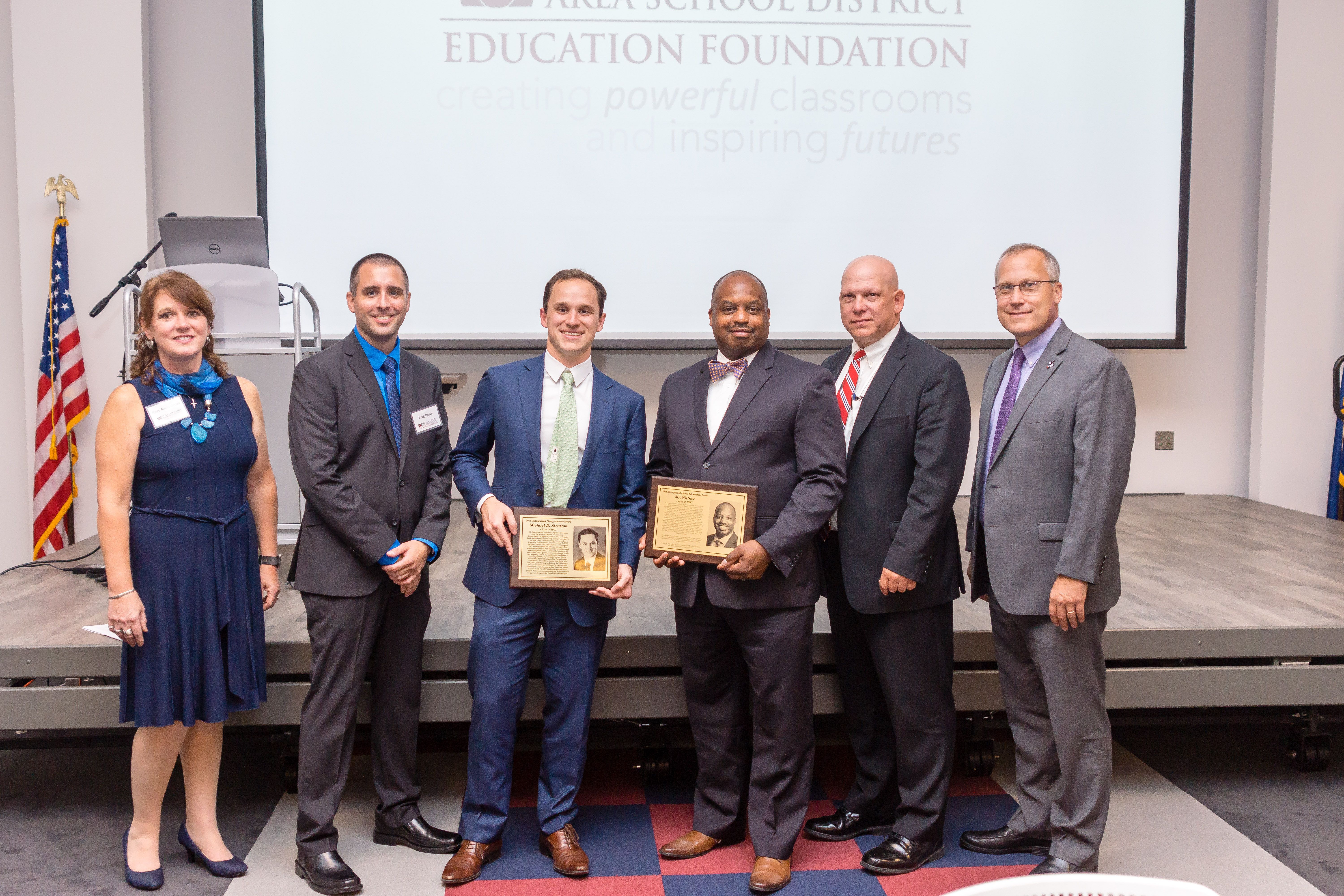 WILLIAMSPORT, Pa. (SEPTEMBER 21, 2018) — Last evening marked the first Williamsport Area School District Education Foundation Donor & Alumni Appreciation Event. The event recognized this year's cohort of distinguished alumni, while also provided an experience to better engage the education foundation's donor base.
The event brought more than 100 guests to Trade and Transit Center II in downtown Williamsport who got to witness this year's Distinguished Alumni accept their awards. Among those honored were Dr. Herbert I. Hurwitz, Michael D. Stratton, Philip M. Thomas Sr. and Greg Walker.   
Stratton, who received the Distinguished Young Alumnus Award, graduated from the district 2007 and now works at Artemis Real Estate Partners, in Washington, D.C. He is also involved in civic and community service.
Mr. Walker, who received the Distinguished Alumni Achievement Award, graduated in 1987 and now resides in Independence, Ohio, as the Midwestern regional vice president at The College Board in Chicago. Walker said his main goal is to help push everyone to truly care about education, because the teachers and adults that cared about him as a child were the same people who inspired him to have a career in education.
Dr. Hurwitz, recipient of this year's Distinguished Alumni Humanitarian Award,  and Mr. Thomas, recipient of this year's Distinguished Alumni Service Award, were not able to be there in person for the event, but were still recognized. Hurwitz graduated in 1980 and now serves as the principal medical director of cancer immunotherapy at Genentech in San Francisco.  
Mr. Thomas graduated in 1961. While he was not there to accept his award he did, however, provide a pre-recorded acceptance speech. He joked about being the only one of those honored last evening to have graduated from Williamsport High School before it was renamed to Williamsport 'Area' High School. Thomas served as WAHS head principal until 2000 when he became an administrative consultant for the district before retiring in 2002.
The featured speaker for the night was author, inspirational speaker, and at-risk youth advocate, Rodney Walker. He shared his personal life story and explained how just one person believing in him made all the difference. Rodney's presentation centered on his memoir, A New Day One: Trauma, Grace and a Young Man's Journey from Foster Care to Yale.
The WASDEF event achieved what it set out to do and more: It inspired a new generation of students by giving them examples of good role models who gave back not only to the school district but the community at large.
The Distinguished Alumni Award program started in 2012 and since then 16 graduates have made it into the Distinguished Alumni Wall of Fame, including the four who were honored this year.
The Education Foundation also celebrated its donors, who, with their help, allowed WASDEF to grant $295,000 to WASD last year. It supported academic programming, the arts, athletics and capital improvement projects.
WASDEF Executive Director Greg Hayes closed out the night by saying, "As we wrap-up tonight's program, whether it's time, talent or treasure, I would like to once again thank you all for your ongoing support and partnership in helping the education foundation advance in its mission to create powerful classrooms and inspire futures and being our community's champions of student success."