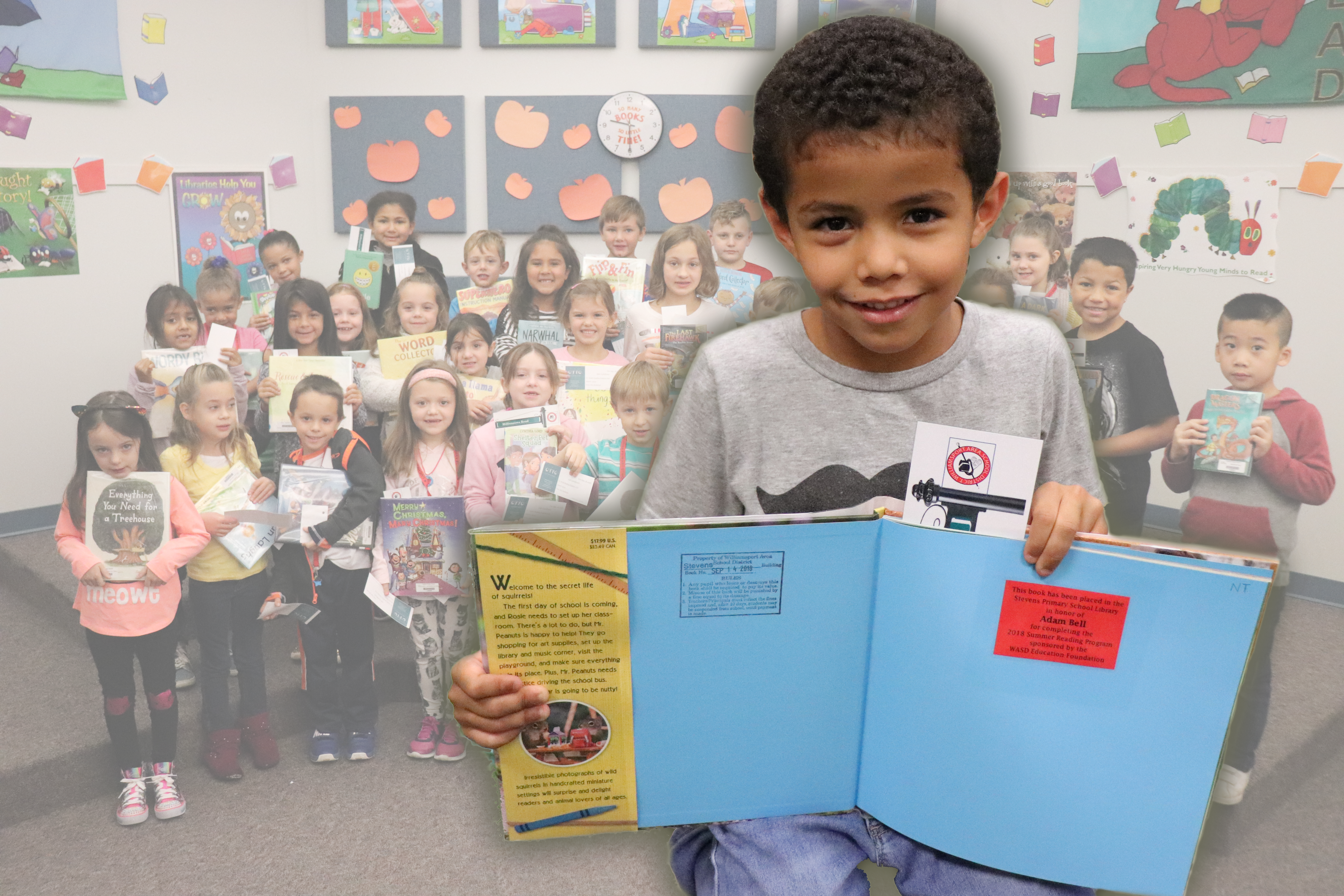 WILLIAMSPORT, Pa. (OCTOBER 15, 2018) — The Williamsport Area School District Education Foundation (WASDEF) announced today its distribution of 152 brand-new books to the elementary library system as part of its annual Building Libraries Through Literacy Program.
The books were granted to the same amount of elementary students who participated in and completed the district-led "Millionaires Read" and James V. Brown Library summer reading programs. Each book is dedicated to a summer reader on a nameplate on the inside cover that will now line the shelves in his or her respective school library for years to come.
This year's recognition also included the provision of $5 gift card donated by Otto Bookstore to each of the students to put toward the purchase of a book to help them build their own home libraries, according to WASDEF Executive Director Greg Hayes.
Since 2011, the WASDEF program has helped grow the elementary library system's inventory by more than 1,100 books — all through the reading effort put forth by students each summer.
"The foundation's goal with this program is to not only promote and encourage summer reading alongside the district but to also have students — in a way —  help 'build' their school libraries," Hayes said, "while also getting an opportunity to leave a legacy of sorts to future students."
Elementary Librarian Sarah Bohnert expressed her gratitude to the foundation, noting that the Foundation "continues to make a huge difference in the lives and learning" of district students.
"It truly is a remarkable, effective foundation, which has been used to build and create so many amazing, innovative and inspiring student-centered programs," Bohnert said. "The WASD elementary libraries have greatly benefited from its generous support. This grant encourages many of our students to read throughout the summer. Reading is such a powerful game changer. It can take you to a place that creates imagination, that transcends a person's reality, that can take you out of poverty, abuse, loneliness, etc., and carries you to a place of possibilities of what you can become.  You become dreamers. Dreamers become doers. Doers change the world.  And it all starts with opening a book. The foundation allows this to happen for our students throughout the entire year."