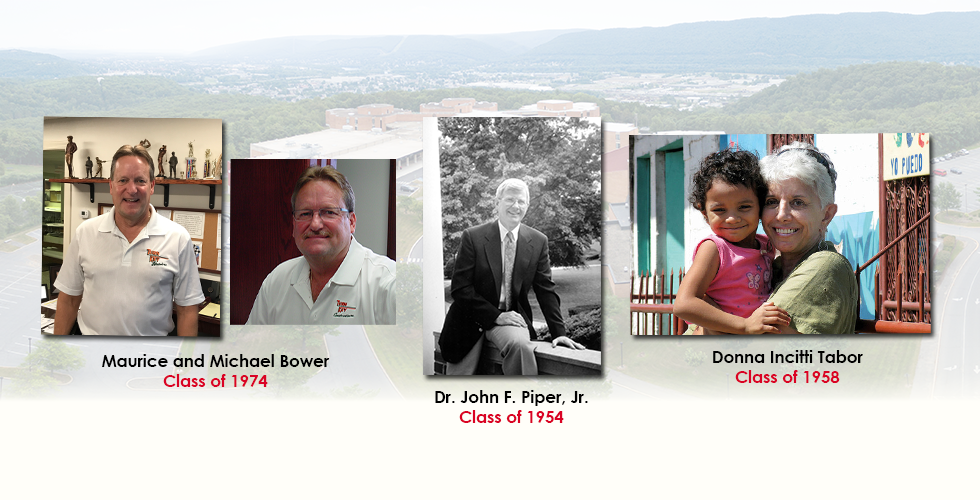 WILLIAMSPORT, Pa. (SEPTEMBER 22, 2017) — The Williamsport Area School District Education Foundation selected four Williamsport Area High School alumni to receive its 2017 Distinguished Alumni Awards, the district's highest honor presented to district alumni.
The following individuals have been officially notified of their selection and have been invited to accept their award during an induction ceremony on Oct. 4 at WAHS.
Together, twin brothers Maurice and Michael Bower '74 will receive the Distinguished Alumni Achievement Award.
Following graduation from WAHS, the two continued their education at Williamsport Area Community College. While there, Maurice was certified in carpentry and also received an associate's degree in architecture, while Michael received certification in electrical construction.
After working in their respective fields, the two founded TurnKey Construction Inc. in 1992 and TurnKey Electric Inc. in 1996. Since then, their companies have been influential in building a number of high-profile projects across the region and within the Williamsport community, such as those at Little League International, UPMC Susquehanna and Williamsport Regional Airport. The brothers' companies also have been involved in Williamsport's downtown revitalization efforts with construction work on the city's newest hotels, Towne Place Suites by Marriott and Residence Inn.
Both reside in Loyalsock Township.
Dr. John F. Piper Jr. '54 will receive the Distinguished Alumni Service Award.
Piper earned a bachelor's degree in history from Lafayette College, a bachelor of divinity degree from Yale University, and a Ph.D. from Duke University.
Piper began his academic work in the Department of Religion of Mount Holyoke College in South Hadley, MA. He joined the Lycoming College faculty in 1969 as an assistant professor in the History Department. He was promoted to full professor in the mid-1980s. He served several terms as chair of the History Department. He became Dean of Lycoming College in 1992 and served in that position until he retired in 2007. He wrote a history of the college, published in 2012, and is currently the college historian. He founded the men's and women's cross-country program at the college in 1982 and served as coach until 1987.
He has served on various committees and boards in the Williamsport community. He joined the West Branch Plan for Equal Opportunity in the early 1970s at the request of P.D. Mitchell, and subsequently served on the Board of the Bethune Douglass Community Center. He has also served on the boards of the Children's Development Center, the Lycoming County Historical Society, Sojourner Truth Ministries, Preservation Williamsport, and the West Branch Drug and Alcohol Abuse Commission. He has been pastor of the DuBoistown-Nisbet United Methodist Church and Grace United Methodist Church, Williamsport.
He and his wife, Margaret, chaired the 2016 Lycoming County United Way Campaign.
Piper is the author of several books and articles, including co-author with Robert Larson and Richard Morris of "Williamsport: Frontier Village to Regional Center."
He resides in Loyalsock Township.
Donna Incitti Tabor '58 will receive the Distinguished Alumni Humanitarian Award.
Tabor earned her bachelor's degree in English composition and journalism from Penn State University. In 1996, after working for 26 years as a television producer in Pittsburgh, Tabor quit her job to join the Peace Corps. In 1998, she became a full-time volunteer for Building New Hope (BNH), a Pittsburgh-based grassroots organization focused on development in Central America. For more than a decade, she dedicated much of her time and energy on projects geared toward at-risk youth in Granada, Nicaragua.
According to a 2015 article on Tabor by the Pittsburgh Post-Gazette, her projects included: "a school and residence for barrio children; Café Chavalos, a highly regarded restaurant and culinary arts workshop run by teens; Granada's first lending library; a reading program that brings books to schools; scholarships, cultural field trips and mentoring for young adults; a veterinary clinic for street animals and work horses; and a fair-trade partnership between BNH and a worker-owned coffee cooperative." Tabor also brought Nicaraguan children to the U.S. for donated medical care, and during Hurricane Mitch in 1998, she worked to get food, water and medicine to homeless victims.
In 2008, she was one of six individuals to receive the first National Awards for Citizen Diplomacy at the Smithsonian American Art Museum and National Portrait Gallery in Washington, D.C. The award was sponsored by the U.S. Center for Citizen Diplomacy, which promotes the role that private citizens can play in cross-cultural relations.
She resides in Jefferson Hills, Pa.
This year will make for 12 graduates who have received Distinguished Alumni Awards since the program began in 2012.
The WASD Education Foundation is a 501(c)(3) nonprofit organization dedicated to enriching the educational experience for students by funding projects and programs.