Distinguished Alumni Wall of Fame Inductees
Dr. Callah Antonetti '05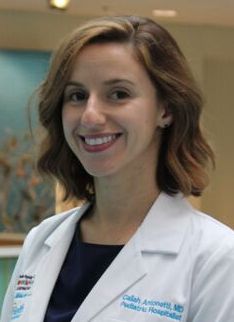 2019 Distinguished Young Alumnus Award
Dr. Antonetti earned her bachelor's degree in biological sciences from the University of Pittsburgh Honors College and her medical degree from the University of Pittsburgh School of Medicine.
After completing her pediatrics residency training at the Children's Hospital of Pittsburgh in 2016, she obtained a position in the Department of Pediatrics at the University of Florida. There, she serves as an assistant clinical professor and is the Assistant Director of the Pediatric Residency Program and Pediatric Hospitalist at the Studer Family Children's Hospital at Sacred Heart.
She's extensively involved in professional development, research and presentations on her field of expertise. One of her most leading contributions to her community as a young professional involves conducting presentations to local pediatricians on current management of children admitted to the hospital with asthma complications.
Dr. Antonetti serves on a number of committees at the children's hospital, and also is a member of the American Academy of Pediatrics and the Florida Medical Association. She recently earned a Golden Apple Teaching Award, which is given by pediatric residents to faculty for excellence in teaching. 
---
Samuel E. Belle '52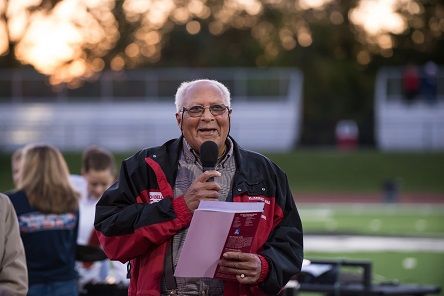 2016 Distinguished Alumni Service Award
Following a stint in the U.S. Army and Army Reserves, Sam first returned to Williamsport High School in 1963 as a social studies teacher, where he later began his long-time career as a track-and-field coach in 1965.  For more than 50 years as coach, he cultivated numerous district and state champions. His role in working with youth is not confined by his head coaching role, but is wide-reaching at both the school district and at Lycoming College. Coach Belle has dedicated his time to the former Bethune-Douglas Community Center on Campbell Street.  His leadership and tireless work there was vital in keeping the community center on solid financial ground and open to the city's youth. He participated in the Local Black History Heritage Project held at the James V. Brown Library and supported Lycoming College by attending and participating in many of the black history events on campus.
---
Maurice and Michael Bower '74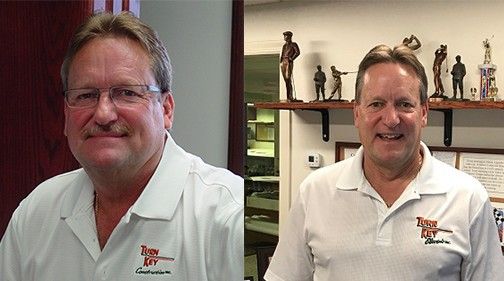 2018 Distinguished Alumni Achievement Award
Following graduation from WAHS, twin brothers Maurice and Michael continued their education at Williamsport Area Community College. While there, Maurice was certified in carpentry and also received an associate's degree in architecture, while Michael received certification in electrical construction. After working in their respective fields, the two founded TurnKey Construction Inc. in 1992 and TurnKey Electric Inc. in 1996. Since then, their companies have been influential in building a number of high-profile projects across the region and within the Williamsport community, such as those at Little League International, UPMC Susquehanna and Williamsport Regional Airport. The brothers' companies also have been involved in Williamsport's downtown revitalization efforts with construction work on the city's newest hotels, Towne Place Suites by Marriott and Residence Inn.
---
Susan Durrwachter '81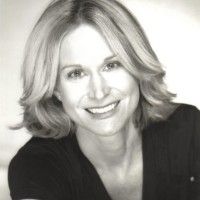 2019 Distinguished Alumni Achievement Award
Susan earned her bachelor of science degree from East Carolina University and a master's degree from The American University.
Now an award-winning and Emmy-nominated CNN producer, she began her career in broadcast journalism in 1990 as an on-air health correspondent for WINK-TV, a CBS affiliate in Fort Myers, Fla., for five years. She then worked as a reporter/producer for ESPN2's "The Local Sports Break" show, produced by Susquehanna Communications.
Soon after a move to NYC in 2000, she landed a job as an associate producer for the new Oprah Winfrey network, Oxygen Media, where she produced primarily scripted shows with studio audiences. 
On Sept. 11, 2001, she arrived at work at Oxygen in the Chelsea area of NYC. Fifteen minutes later, the first plane struck the World Trade Center. She and a camera crew climbed through the window onto the roof and filmed the second plane strike as well as the aftermath. These turn of events changed the course of television production.
In early 2002, she became a producer for NBC News, where she booked and produced guest segments for many shows and specials, such as: "Iraq War: Shock & Awe," "Morning Joe," "Lester Holt Live," Tucker Carlson's "The Situation," the 2004 Republican National Convention, and NBC coverage of the 2006 Torino Winter Olympics.
After seven years at NBC, Susan became an editorial producer for CNN in 2009, where she continues to work today, booking and producing guest segments for many shows, including: "CNN Tonight with Don Lemon," "Inside Politics with John King" and "CNN New Day." She continues to produce CNN's annual New Year's Eve special in Times Square with Anderson Cooper and Andy Cohen.
Between her time at NBC and CNN, she's booked and produced segments for high-profile guests, including President Donald Trump, Oprah Winfrey, Martha Stewart, Beyonce, Jimmy Fallon, Dolly Parton, Willie Nelson, Howard Stern, Joe Namath, Ozzy and Sharon Osbourne, Rod Stewart, Mark Cuban, Aretha Franklin, Bruno Mars, The Jacksons (first interview together in 30 years), and Joan and Jackie Collins (only interview together).
In addition to her work as a producer, she has been in feature films and television shows as a stand-in and/or photo double for Sarah Jessica Parker in "Sex and the City," Meryl Streep in "It's Complicated," and Jodi Foster in "The Panic Room." She also landed a speaking role playing a news reporter in "The Adjustment Bureau," starring Matt Damon.
Her work has earned her a number of awards, including a 2017 CNN Emmy nomination for Outstanding Live Interview with Anderson Cooper, two CNN Peabody Awards for the Malaysia Airlines Flight 370 crash in 2014 and the Gulf Oil Spill in 2010. She's also earned two NBC Universal Ovation Awards, one for Outstanding Teamwork in 2005 and another for the NBC Torino Olympics in 2006.
Locally, she's been named Volunteer of the Year by the Northcentral Pennsylvania Conservancy, she served two years as chairman of the American Cancer Society's Relay for Life, and as president of AIDS Alliance of Lycoming County.
---
Frank Girardi '57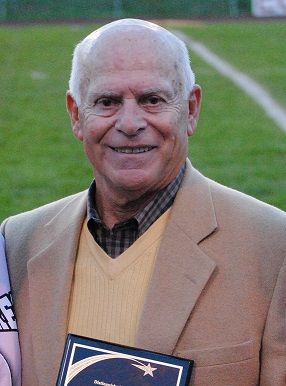 2012 Distinguished Alumni Award
Frank Girardi paved a career in athletics and, in the process, rose to legendary status for his successes. A longtime head football coach for the Lycoming College Warriors of 36 years (1972-2007), Frank garnered prestigious attention over the span of his career.  He's been inducted into four hall of fames and earned awards from a number of organizations, including a lifetime achievement award from the Central Pennsylvania Chapter of the National Football Foundation. He concluded his 36-year run in 2007 as one of the most successful coaches in NCAA history, compiling an overall record of 257-97-4, ranking him 15th in all divisions in victories. After the 2007 season, ESPN Radio 1050/104.1 honored Girardi with a lifetime achievement award and announced the award will carry the title "The Frank Girardi Lifetime Achievement Award."
---
Dr. Samuel B. Hoff '75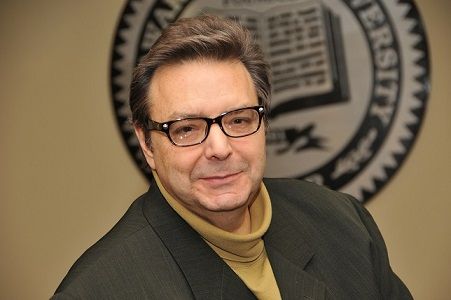 2013 Distinguished Alumni Award
Dr. Hoff is a professor of history and political science at Delaware State University. He has served three posts with the U.S. Congress, and has been a registered and official candidate for the U.S. president in every election since 1988. He is considered a national authority on the American presidency, and often is tapped for commentary by television stations and newspapers. He appeared on NBC Nightly News with Brian Williams in 2010 and regularly contributes opinion columns to newspapers in Delaware. He has held several civic leadership posts, having served as the chair of the Dover Human Relations Commission for five years, a board member of the Underground Railroad Coalition of Delaware and president of Delmarva Discussions. At the state level, he served on the Military Academy Selection Committee for U.S. Senator Ted Kaufman in 2009. Nationally, he completed a five-year term as vice president for Military Awards for the General Society of the War of 1812. In this position, he was responsible for sending awards to more than 300 ROTC units annually.
---
Dr. Herbert I. Hurwitz '80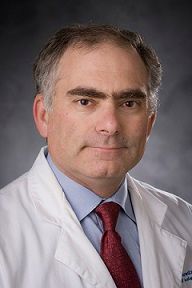 2018 Distinguished Alumni Humanitarian Award
Dr. Hurwitz earned his medical degree from Thomas Jefferson University in Philadelphia.  He began his career as a medical resident in internal medicine at Michael Reese Hospital & Medical Center in Chicago in 1988. In 1992, he became a medical oncology fellow at Johns Hopkins University, Baltimore, where he also obtained his master's degree in clinical investigation. He joined Duke University in 1996 as an associate professor of medicine and later became the clinical director of the Duke Phase I Program, one of only 14 National Cancer Institute-sponsored Phase I Centers of Excellence.  Dr. Hurwitz has spent his career researching gastrointestinal cancers, overseeing clinical trials of new anticancer drugs, particularly anti-angiogenic agents, drug combinations and radiotherapy-containing regimens. He also was the lead investigator of the IFL-Bevacizumab (Avastin®) study for metastatic colorectal cancer in the early 2000s. The study introduced an added agent to chemotherapy that essentially starved cancerous tumors by inhibiting blood supply. The study yielded promising results that not only slowed progression of the disease but prolonged patient survival.
Having retired from Duke in 2017, Dr. Hurwitz works as the principal medical director of cancer immunotherapy development at Genentech in San Francisco.
---
Dr. John F. Piper Jr. '54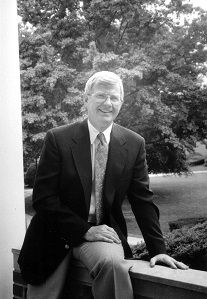 2017 Distinguished Alumni Service Award
Dr. Piper earned a bachelor's degree in history from Lafayette College, a bachelor of divinity degree from Yale University, and a Ph.D. from Duke University. He began his career in the Department of Religion of Mount Holyoke College in South Hadley, MA. For 38 years, he worked as a professor in the History Department at Lycoming College, where he served several terms as its chair. He became Dean of Lycoming College in 1992 and served in that position until he retired in 2007. He wrote a history of the college, published in 2012, and is currently the College Historian. He founded the men's and women's cross-country program at the college in 1982 and served as coach until 1987. He has served on various committees and boards in the Williamsport community. He joined the West Branch Plan for Equal Opportunity in the early 1970s at the request of P.D. Mitchell, and subsequently served on the Board of the Bethune Douglass Community Center. In addition, he has also served on the boards of the Children's Development Center, the Lycoming County Historical Society, Sojourner Truth Ministries, Preservation Williamsport, and the West Branch Drug and Alcohol Abuse Commission. He has been pastor of the DuBoistown-Nisbet United Methodist Charge and Grace United Methodist Church. He and his wife, Margaret, also chaired the 2016 Lycoming County United Way Campaign. He is the author of several books and articles, including co-author with Robert Larson and Richard Morris of "Williamsport: Frontier Village to Regional Center."
---
Dr. Frederic Sanford '58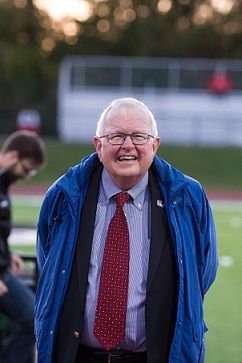 2016 Distinguished Alumni Humanitarian Award
Dr. Sanford earned the inaugural Distinguished Alumni Humanitarian Award for his demonstration of leadership in the military for the betterment of the country. His enlistment in the Navy led him to hold a series of assignments, beginning as a surgeon of the 11th Engineers Battalion of the Third Marine Division in Vietnam from 1967-68. After serving as assistant chief of operational medicine and fleet support in the Bureau of Medicine and Surgery in Washington, D.C., he spent a second tour as Navy medical inspector general, from which he retired in 1998. Dr. Sanford's military decorations include the Legion of Merit with five gold stars, meritorious service medical and combat action ribbon. He retired for a second time as the executive director of the Association of Military Surgeons of the United States in 2005. He has served on numerous boards and committees, including the Friends of the Uniformed Services University of Health Sciences, the Navy, the Marine Corps, Coast Guard Residence Foundation and Society of the History of Navy Medicine. Today, he volunteers with an organization that benefits wounded warriors.
---
Jonathan Smith '86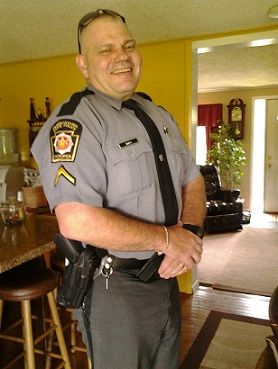 2015 Distinguished Alumni Award
Declared a hero by those who knew him, worked with him and by those he saved, Jonathan's most notable act of courage that earned him and his colleagues the Pennsylvania State Police Medal of Honor for First Responders, the department's highest award, for the response to the tragic Amish schoolhouse massacre in Lancaster on October 2, 2006.  It was then "he acted heroically during the shootings, and then became a hero to survivors and parents for years afterward," according to an article published by LNP newspaper. The article states, "After hearing shotgun blasts, Smith was among the first inside, using his shield to smash out one of the school windows. He began carrying the wounded girls outside."  Thereafter, Smith befriended the survivors and the victims' families, and was often seen in uniform "playing baseball with kids in the newly built school." Smith also was known as a community volunteer, serving as a counselor with the Lancaster County Camp Cadet Program, the American Legion Honor Camp Cadet at York College and for participating in the "Shop With a Cop" program.
---
Marvin H. and Jean R. Staiman '45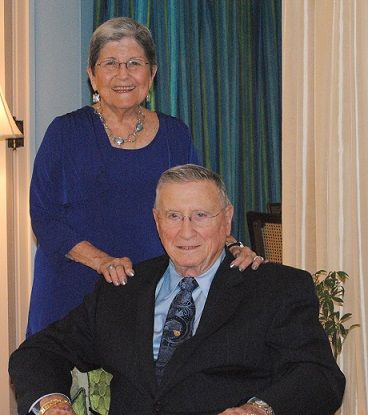 2014 Distinguished Alumni Award
Led by their strong faith and belief in civic duty, together, the two have been leaving their mark on the Williamsport community for more than six decades.  Deeply involved with organizations to benefit the community and its citizens, the Staimans have helped influence signature movements and decisions that have created Williamsport as it is known today — all of which cross the touchstones of their lives: their Jewish faith, family, and the business, civic and public service communities. From fundraising events and affiliations with a number of boards and committees, the two have lent their time, talent and treasure in an effort to leave a significant impact in the city's history. In addition to their local efforts, the two are founders at Hadassah Hospital Mt. Scopus, Jerusalem, and Legacy of Light Builders at the United States Holocaust Memorial Museum in Washington, D.C.
Jean passed away on Sept. 30, 2020.
---
Michael D. Stratton '07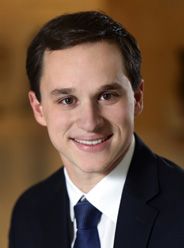 2018 Distinguished Young Alumnus Award
Mr. Stratton earned a bachelor's degree in economics from The Wharton School at the University of Pennsylvania. He began his career in 2011 at Deutsche Bank Securities in New York City where he was a part of the Real Estate Situations Group focused on debt investment, primarily in the real estate sector.  In 2013, he joined Artemis Real Estate Partners in Washington, D.C., a women-owned real estate private equity firm, where he works as vice president on the acquisitions and asset management team. At Artemis, he focuses on all asset classes with a specific focus on investments in debt and hospitality sectors. Mr. Stratton also is dedicated to civic engagement and community service. He was instrumental in the early stages of the Favors Forward Foundation, a nonprofit that assists those living with unexpected, life-changing hardships in the Williamsport area.  His involvement with Favors Forward continues today as both a volunteer and advisor. As a Penn student, he worked with Rebuild Philadelphia, a revitalization program that invests in communities that are in most need of support, with a particular focus in West Philadelphia.
---
William Stroup '46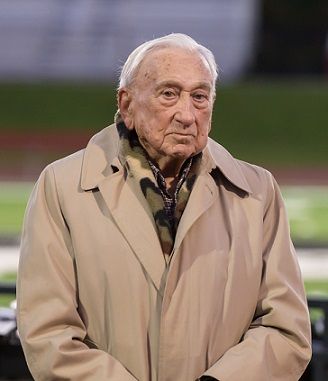 2016 Distinguished Alumni Achievement Award
William E. Stroup received the Distinguished Alumni Achievement Award for his 35-year dedication an endeavor that began in 1955 on the most remote place on the planet — Antarctica. Enlisted in the U.S. Navy, he spent his military career with the Naval Construction Force.  In 1955, he volunteered for Operation Deep Freeze, President Eisenhower's call for men to build research stations in Antarctica in a quest to support scientific research and gain a Cold War advantage. Eisenhower instructed the U.S. Naval Mobile Construction Battalion (MCB), also known "Seabees," to build seven scientific research stations on the continent. Stroup and the teams' accomplishments were among the greatest headlines of that era, with ongoing coverage by National Geographic, Life, and The New York Times.  As a result of his work and dedication, Stroup became the namesake of an Antarctic mountain in 2008 — Stroup Peak.  During his enlisted career, Stroup advanced to Master Chief Construction Electrician, was promoted to the Warrant Officer rank in 1965 and retired as Chief Warrant Officer Four in 1976.  
---
Donna Incitti Tabor '58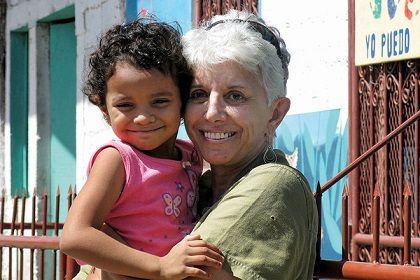 2017 Distinguished Alumni Humanitarian Award
After working for 26 years as a television producer in Pittsburgh, Donna quit her job 1996 to join the Peace Corps. In 1998, she became a full-time volunteer for Building New Hope (BNH), a Pittsburgh-based grassroots organization focused on development in Central America. For more than a decade, she dedicated much of her energy on projects geared toward at-risk youth in Granada, Nicaragua. Among her projects: a school and residence for barrio children; Café Chavalos, a highly regarded restaurant and culinary arts workshop run by teens; Granada's first lending library; a reading program that brings books to schools; scholarships, cultural field trips and mentoring for young adults; a veterinary clinic for street animals and work horses; and a fair-trade partnership between BNH and a worker-owned coffee cooperative. Tabor also brought Nicaraguan children to the U.S. for donated medical care, and during Hurricane Mitch in 1998, she worked to get food, water and medicine to homeless victims. In 2008, she was one of six individuals to receive the first National Awards for Citizen Diplomacy at the Smithsonian American Art Museum and National Portrait Gallery in Washington, D.C.
---
Philip M. Thomas, Sr. '61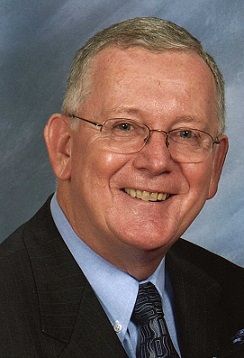 2018 Distinguished Alumni Service Award
Mr. Thomas earned his bachelor's degree in secondary mathematics from Bloomsburg State College (now University), a master's degree in teaching of mathematics and administrative certification from Bucknell University.  He began his more than 35-year career in education as a math teacher at WHS in 1965 before becoming an assistant principal in 1973. He was named head principal in 1991 and served in that role until 2000, when he became an administrative consultant for the district before retiring in 2002. Over the span of his career, Mr. Thomas served in leadership roles on various committees and boards in the Williamsport community. From among them, he served on boards for the Pennsylvania School Press Association, the Lycoming County Advisory Board of the Hemlock Girl Scout Council, and a number of committees for the Pennsylvania School Retirees Association (PASR), and the Mutual Ministry Committee at St. Mark's Lutheran Church. He was chairman of the "Wolf for Mayor" campaign from 2002-2007. He also helped establish the Williamsport Area School District Education Foundation and served on the board for 12 years (2004-2016), and led the organization as its president from 2004-2009.
He serves on the executive committee for the Lycoming Chapter of PASR. He remains an active member at St. Mark's Lutheran Church, acting as an assisting minister, a lector, usher, church council and is on the Family Promise team.
He and his wife, Barbara, reside in Williamsport. Together, they have two children, Rebecca and Philip Jr.
---
Capt. Chancellor Alfonso "Pete" Tzomes '62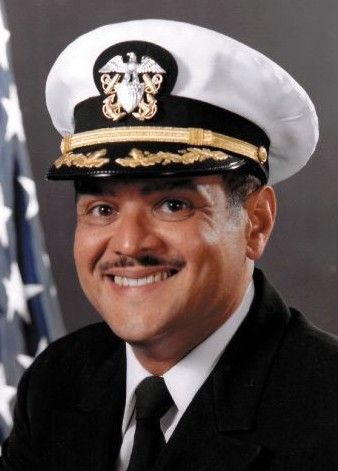 2019 Distinguished Alumni Service Award
Following his time at WHS, Pete studied at the State University of New York, Oneonta, before entering the U.S. Naval Academy, from which he graduated in 1967 with the rank of ensign.
Advancing through the ranks over the years, Pete became the first African American to command a nuclear submarine for the U.S. Navy, the USS Houston, in 1983. The milestone yielded national attention, including a feature story in the December 1985 issue of "Ebony" magazine.
After his term of service ended on Houston in 1986, he moved on to hold several high-level assignments. He served as Director of Equal Opportunity Division for the Bureau of Naval Personnel. He also was a member of the Pacific Fleet Nuclear Propulsion Examining Board; Force Operations Officer on the staff of Commander, Submarine Force, U.S. Pacific Fleet; and Assistant Chief of Staff for Operations/Inspector General at Naval Base in Charleston, S.C., where he retired in 1994. 
His nearly 30-year military career earned him several awards: Legion of Merit (with two gold stars); the Meritorious Service Award (with three gold stars); the Navy Commendation Medal (with two gold stars); unit and campaign ribbons; and, in 1991, the Black Engineer of the Year Award for his effort to lead the Navy's equal opportunity programs into the 21st century.
After departing the Navy and following a one-year stint as Bank One Vice President, he worked as a utility manager in the nuclear division of Exelon Corp. until 2012.
In retirement, he continued to follow Navy and military issues through his affiliations with the Naval Submarine League, the U.S. Naval Institute, the U.S. Submarine Veterans, the Navy League, the Military Officers Association, and the American Legion. He also was a member of the NAACP and supported the United Service Organizations Inc. (USO).
He passed away on June 13, 2019, in Iowa City, Iowa.
---
Greg Walker '87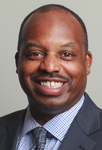 2018 Distinguished Alumni Achievement Award
Mr. Walker earned a bachelor's degree in elementary education from Syracuse University and his master's degree in educational administration from State University of New York College at Oswego.  Following numerous athletic achievements at the high school and collegiate levels, Mr. Walker began his career in educational administration in 1998 as a principal at Rome City School District in Rome, N.Y. There, he became the school's first African American principal. In 2000, he became a principal at Fowler High School in Syracuse, N.Y. During his time there, he was highlighted by the Commissioner of Education in New York for the school's academic performance through a statewide video, "New York Learns, Closing the Gap."  Starting in 2004, he worked as the executive director of major accounts and as national manager for K-12 institutional relationships at The College Board. In 2009, he was named as the assistant superintendent of secondary education for School District U-46 in Elgin, Ill. For more than three years, he helped lead U-46, Illinois's second largest school district, which serves about 40,000 students.  Since 2012, he's worked as the Midwestern regional vice president at The College Board in Chicago.
Mr. Walker has been a nominee for National Teacher Award Honors in 1993, a Scholar-Athlete winner for the NAACP in 1992 and a Scholar-Athlete winner for Syracuse University football at the Peach Bowl in Atlanta in 1990.
He and his wife, Adina, reside in Independence, Ohio. Together, they have three children, Nyla, Joshua and Caleb.
---