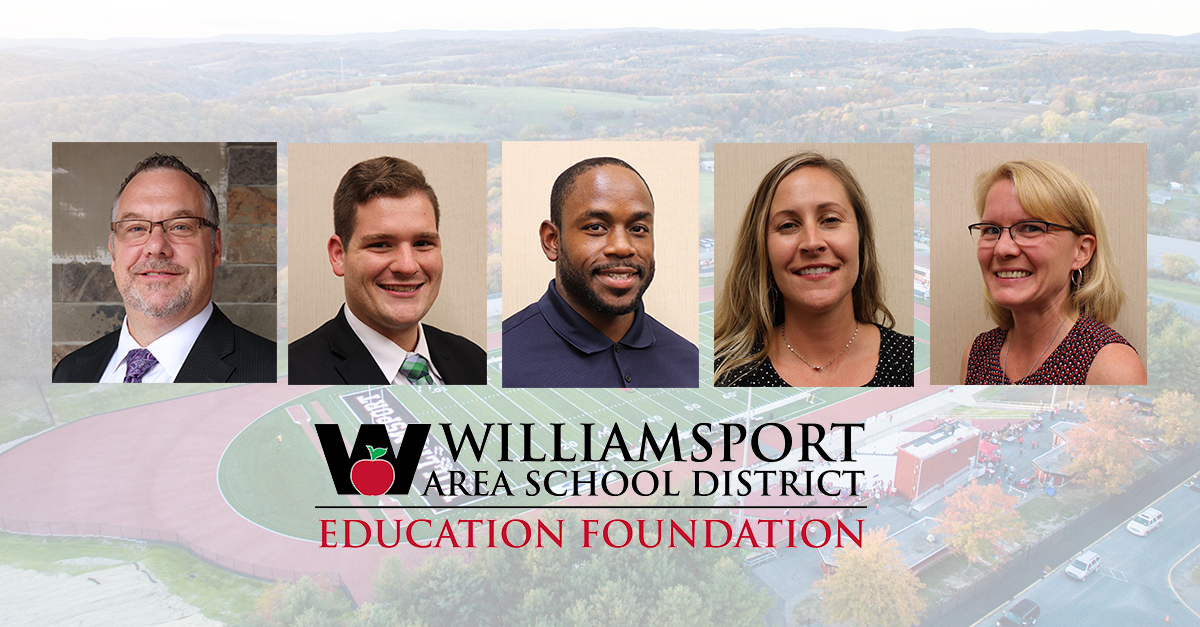 WILLIAMSPORT, Pa. (SEPTEMBER 27, 2017) — The Williamsport Area School District Education Foundation (WASDEF) announces this year's appointment of five new members to its Board of Directors.
Joining the board are Ed Barone '85, Michael Beucler, Darnell Hayes '03, Audra Mazzante '98 and Stephanie Radulski '86 (pictured at right, respectively).
"We're very happy and pleased to welcome our new board members," said Trisha Marty, president of WASDEF. "Each brings to the board exceptional talent and expertise from their professional backgrounds and affiliations in addition to their passion for the district."
Barone is a senior client advisor with Wilmington Trust. He also serves on the board of Big Brothers, Big Sisters, and is a former board member for the James V. Brown Library. Barone was the founder of Special Kid Training, which was in operation from 2003-2009.
Beucler, who recently moved to Williamsport from Boston, is a business development liaison for physicians at UPMC Susquehanna. While new to his role in the area, he has previous experience in real estate in Boston. He also has volunteered with organizations such as the American Red Cross, Habitat for Humanity, Special Olympics and Alzheimer's Association.
Hayes is the branch executive director of the River Valley YMCA Williamsport. Hayes has an eight-year history with the national nonprofit, having served in leadership roles with the Y not only at its Williamsport branch but also in Bloomsburg, Pa., and in Rhode Island. He also serves as a board member for the Kiwanis Club of Williamsport.
Mazzante is a technology administrative assistant at BLaST Intermediate Unit 17. An active parent and advocate for the district, Mazzante also serves on the PTO for Jackson Primary and Lycoming Valley Intermediate schools and is the former president of Lycoming Nursery School.
Radulski is an Internet consultant for the American Psychological Association. In addition to having served on PTO boards in the district, she also serves as the treasurer for the WAHS Orchestra Parents Association, is a member of the James V. Brown Library Author Gala Committee and is a sustaining member of Junior League Williamsport.
The 2017-2018 WASDEF Board of Directors are: President Trisha Marty '87; Vice President Dr. Deborah Grove '69; Dr. Elizabeth Barnhart; Ed Barone '85; Michael Beucler; Dr. Timothy S. Bowers (ex-officio); Carol Bresticker; Stephanie Calder; Susan Dinsmore; Bill Emery; Darnell Hayes '03; Gerry Fausnaught; Rose-Marie Gross; Audra Mazzante '98; Craig Niklaus; Lynne Piotrowski (Secretary); Stephanie Radulski '86; Jeff Richards (Treasurer); Lorre Robinson '79; Dr. Philip Sprunger (emeritus); Spencer Sweeting '01; and J. Michael Wiley.
The WASD Education Foundation is a 501(c)(3) nonprofit organization dedicated to enhancing the educational experience for students by funding programs, projects and initiatives.