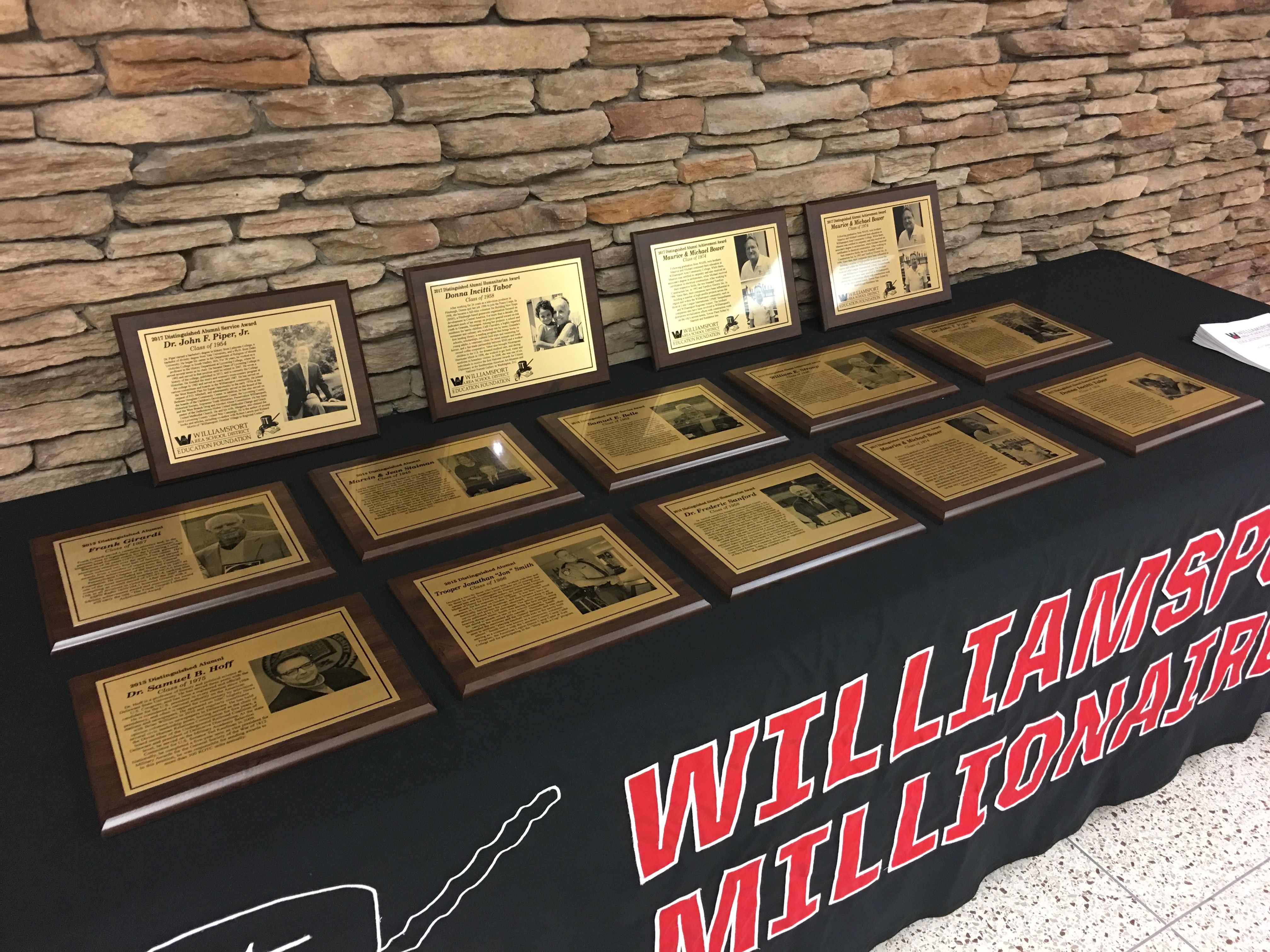 WILLIAMSPORT, Pa. (MAY 1, 2018) — The Williamsport Area School District Education Foundation's (WASDEF) alumni committee seeks nominations for the 2018 Williamsport Area High School Distinguished Alumni Awards.
The 2018 recipients will be inducted into the WAHS Distinguished Alumni Wall of Fame this fall. This year's recipients will join previous inductees during award presentation at WASDEF's first Donor Appreciation Event and Awards Ceremony on Sept. 20.
"WAHS has produced outstanding graduates through the years who have achieved or done great things, either in their field of work or through public service," said Kimberlee Fredo '75, alumni committee chair. "This is one way to honor them for what they've accomplished and to bring them back to where it began."
Up to four individuals can be recognized in the following award categories:
• Outstanding Recent Alumni Award: Given to an alumnus who has graduated 15 years ago or less. It recognizes outstanding service and accomplishments of an exceptional young alumnus. Areas of service may include professional, personal and civic.
• Distinguished Alumni Service Award: Given to an alumnus who has provided outstanding service to his/her profession and/or community.
• Distinguished Alumni Achievement Award: Given to an alumnus who has modeled and employed a focus on achievement within his/her profession.
• Distinguished Alumni Humanitarian Award: Given to an alumnus who has provided extraordinary service for the benefit of others.
For those wishing to nominate an individual, either living or deceased, nomination forms are available at the WASD Education Foundation office, 2780 West Fourth St., or online at www.wasdeducationfuoundation.org under "Programs."
For a person to be considered, the following must be received by Friday, June 29:
• a completed nomination form and the candidate's resume or vita;
• provided evidence to support any philanthropy, community service, accomplishments, awards and distinctions (professional or otherwise), and military and public safety involvement;
• at least one letter of endorsement and any material to support reasoning;
• and a most recent photo of the candidate.
The alumni committee will evaluate each nomination and an announcement of this year's recipients will be made on or by July 20.
As of 2017, the WAHS Distinguished Alumni Wall of Fame inductees are:
• Samuel E. Belle '52
• Maurice and Michael Bower '74
• Frank Girardi '57
• Dr. Samuel B. Hoff '75
• Dr. John F. Piper Jr. '54
• Dr. Frederic Sanford '58
• Jonathan Smith '86
• Marvin H. and Jean R. Staiman '45
• William Stroup '46
• Donna Incitti Tabor '58
WASDEF is a recognized nonprofit affiliate of the school district. Led by a 20-member volunteer board of directors, the Education Foundation facilitates charitable giving and permanent legacies based on individual areas of interest in educational innovation, the arts, athletics and scholarships.