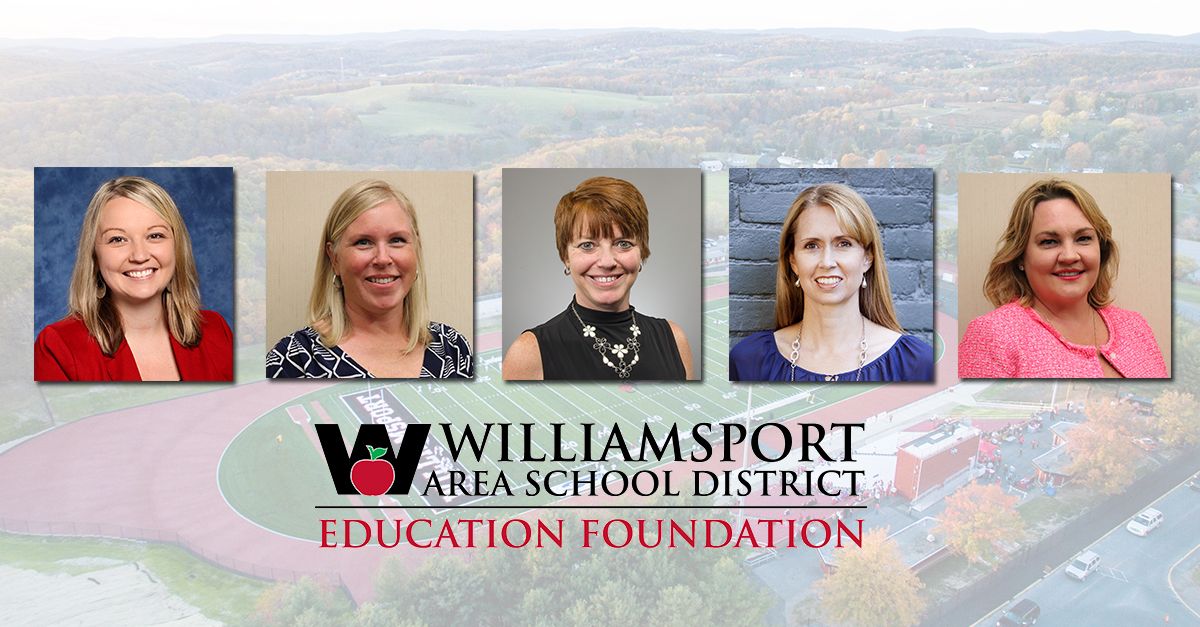 WILLIAMSPORT, Pa. (OCTOBER 3, 2018) — The Williamsport Area School District Education Foundation (WASDEF) announced this year's appointment of five new members to its board of directors.
Joining the board are Brooke Beiter, Lisa Cramer, Wanda Erb, Carol Fausnaught and Allison Staiman.
WASDEF President Rose-Marie Gross said she is pleased with the newcomers and looks forward to utilizing the variety of professional expertise among the group.
Beiter is the director of educational planning at BLaST Intermediate Unit 17. Previously, she was the assistant principal at Loyalsock Township High School. Prior to that, she worked for eight years as an English teacher at LTHS. In the community, Beiter serves as the education chairperson of Junior League of Williamsport.
As a community volunteer, active parent and advocate of WASD, Cramer brings extensive volunteer experience to the board. She has served on numerous boards and committees, such as Welcome Newcomers, Junior League and the WASD soccer booster club. She also previously served as a school board member for West Branch School.
Erb, WASD's new business administrator, replaces Jeffrey Richards as WASDEF's treasurer. Erb comes to the district from Northern Tioga School District, where she worked as its business manager since 1994. Her community involvement includes serving on the Laurel Health Center Advisory Board and the Tioga-Bradford Head Start Board of Directors. She previously served on the Laurel Health Systems Community Board.
Fausnaught is the associate vice president of development at Christian Union, a nonprofit based in Princeton, NJ. She brings more than 12 years of fundraising experience to the board, having raised more than $20 million in her career so far. She also serves as the lead council member at First United Church.
Also a community volunteer, active parent and WASD advocate, Staiman brings her extensive experience from the nonprofit sector to WASDEF. She serves as president of the Cochran Primary PTO, vice president of the YWCA Northcentral PA, and serves on the boards of the Community Theatre League and First Community Foundation Partnership of Pennsylvania.
The 2018-2019 Board of directors are: President Rose-Marie Gross; Vice President Audra Mazzante; Dr. Elizabeth Barnhart; Ed Barone; Brooke Beiter; Superintendent Dr. Timothy S. Bowers; Michael Beucler; Carol Bresticker; Stephanie Calder; Lisa Cramer; Susan Dinsmore; Bill Emery; Wanda Erb (Treasurer); Carol Fausnaught; Craig Niklaus; Lynne Piotrowski (Secretary); Stephanie Radulski; Lorre Robinson; and Allison Staiman.