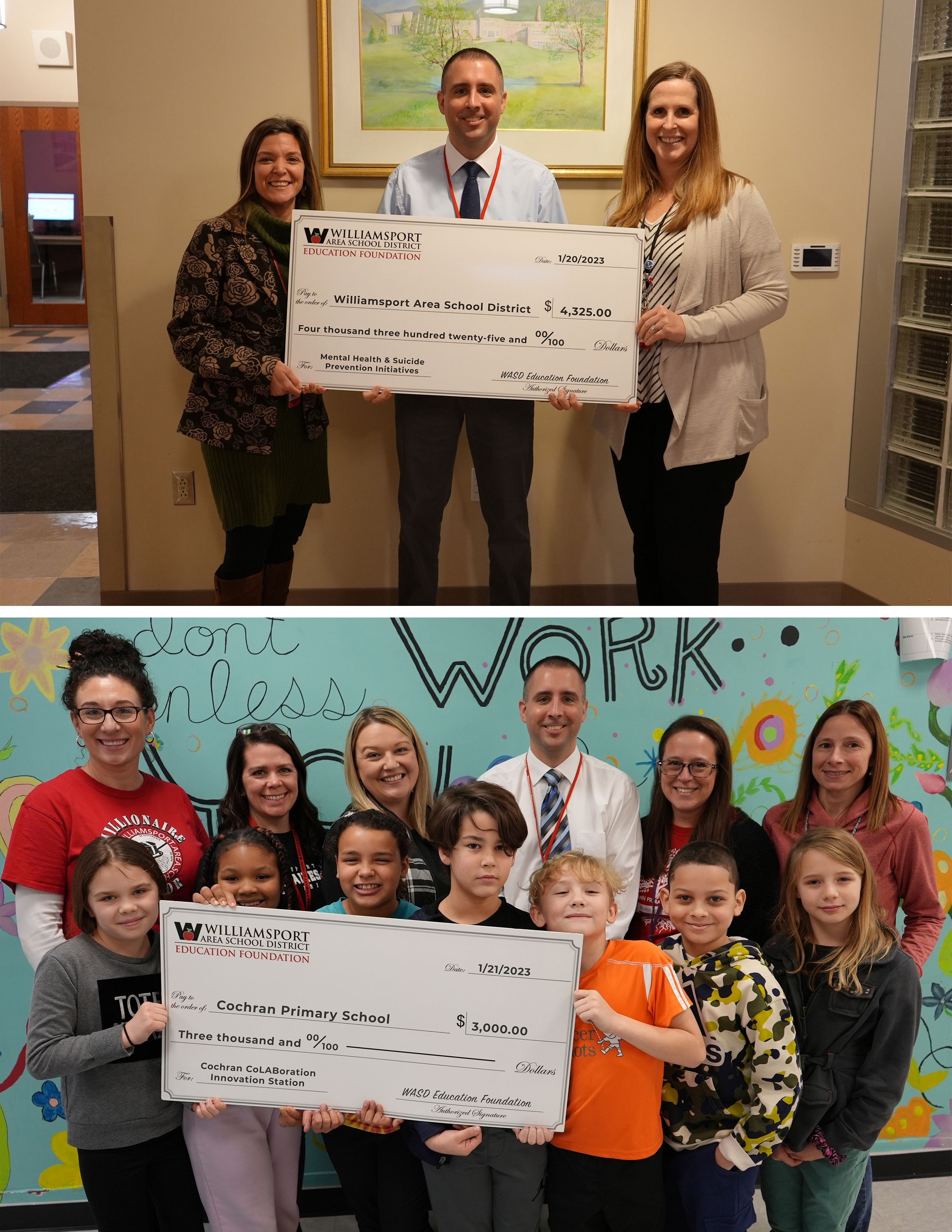 WILLIAMSPORT, Pa. (JANUARY 23, 2023) — The Williamsport Area School District Education Foundation (WASDEF) announced its distribution of two grants totaling $7,325 that will provide support to and enhance district programs.
The funds, awarded at the closing of WASDEF's third grant round earlier this month, were provided to the following:
$4,325 to Megan Hunter and Heather Way, the district's mental health and trauma coordinators, to support the district's mental health and suicide prevention initiatives. The grant was made possible through community donations and matching funds received by EQT during 2022's #GivingTuesday event in November.

$3,000 to Cochran Primary School teachers Leah Cox, Jenny Day, Kristiann McQuown and Brooke Nenadal to support the creation of a "CoLABoration Innovation Station." Funded by WASDEF's Annual Fund, the grant will support a building-wide effort to amplify the core curriculum through the incorporation of hands-on STEM experiences rooted in the Engineering Design Process.
The CoLABoration Innovation Station, a STEM library of sorts, as Nenadal describes it, will be available to every classroom at Cochran.
"It'll house a collection of hands-on STEM equipment that allows students to build, code, create and design," she said. "Our hope is that the CoLABoration Innovation Station increases student engagement, drives academic success, and fosters student thinking, design, and exploration."
Grant funds provided to Hunter and Way will be used to help support efforts, such as implementing a peer outreach program at Williamsport Area High School; creating calming spaces across the district; funding professional trainings for faculty, staff and administrators; and/or funding educational programs, awareness and prevention campaigns.
"We are extremely grateful and excited to use these funds to continue to support our students' mental health and strengthen our suicide prevention programs," said Hunter and Way.
So far this academic year, WASDEF has provided more than $31,000 to district programs, and facilitated the reception of more than $52,000 in Educational Improvement Tax Credit (EITC) funds through the First Community Foundation Partnership of Pennsylvania.
WASDEF is a recognized nonprofit affiliate of the school district. Led by a 20-member volunteer board of directors, the education foundation facilitates charitable giving and permanent legacies based on individual areas of interest in educational innovation, the arts, athletics and scholarships. For more information, visit www.wasdeducationfoundation.org.
###