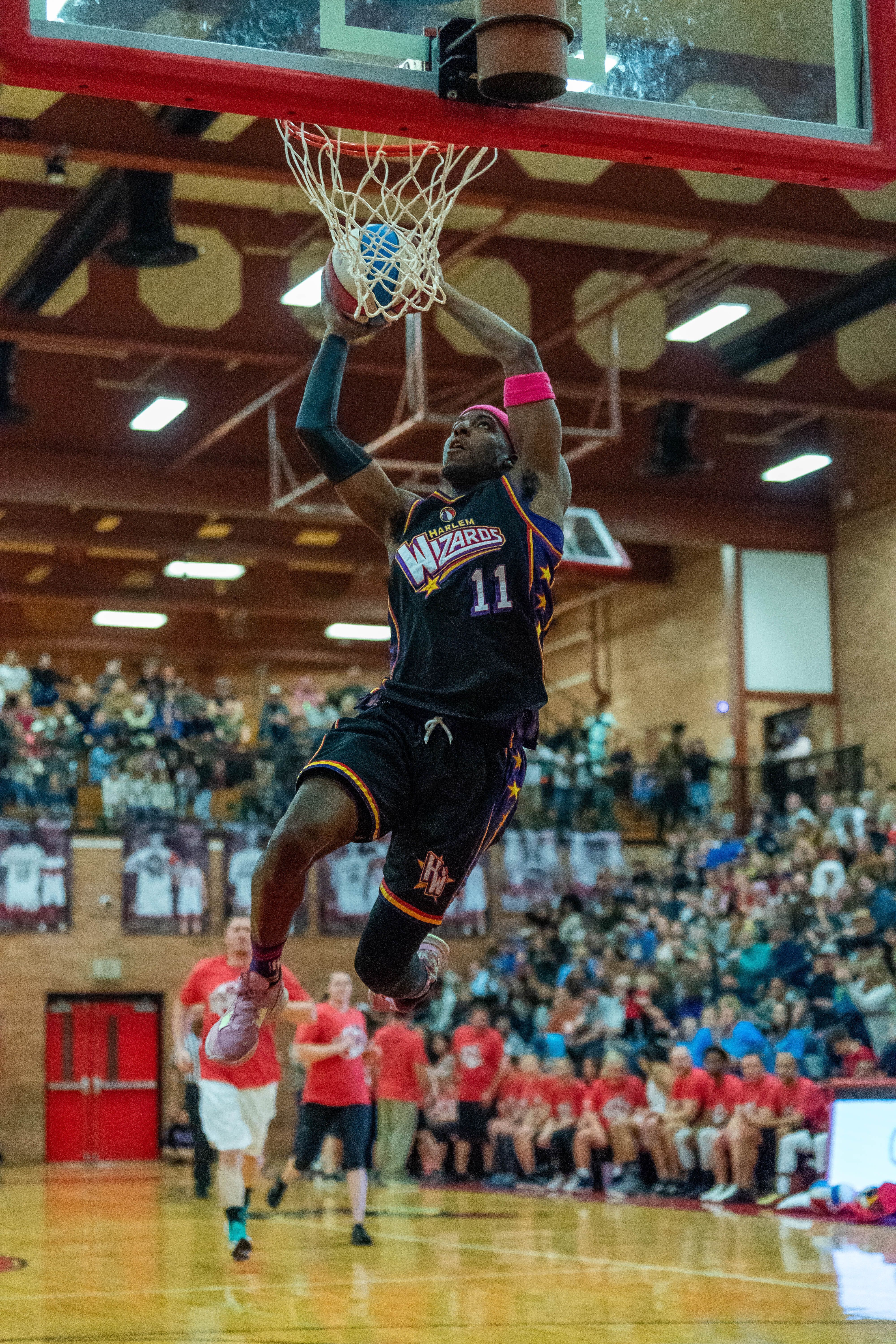 WILLIAMSPORT, Pa. (FEBRUARY 24, 2023) — After returning to Williamsport Area High School for the first time since 2018, the Harlem Wizards event raised a net total of $20,164 for the Williamsport Area School District Education Foundation (WASDEF).
The Feb. 9 event, presented by Geisinger, drew some 1,500 people to the Magic Dome to watch district personalities take on the New Jersey-based entertainment basketball squad.
"The money raised this year is the highest amount the Wizards event has ever brought in for us," said WASDEF Executive Director Greg Hayes. "We're very proud of the results and thankful to all of those who sponsored, volunteered, participated or attended to make this year a huge success."
Of the 30-member district team known as the Millionaire Magicians, WAHS alumni and members of the 1999 state basketball championship team, Mayor Derek Slaughter '99 and professional international basketball star Chevy Troutman '00, returned to the hardwood as celebrity guest players.
"It was great to be able to play again and participate in an event that benefits Williamsport schools," said Slaughter, who previously played on the Magicians from 2014-2017 as a WAHS teacher. "It was an incredible show of community and I'm both proud and honored to have been a part of it. Congratulations to the education foundation on a successful night."
Cochran Primary School third-grade teacher Brooke Nenadal, who recently received $3,500 in WASDEF grant funds to create a STEM resource library at her school called the CoLABoration Innovation Station, joined up with the Magicians this year as a first-time player.
"It was such an amazing experience to play with the Wizards and to raise funds for the education foundation," she said. "We all had a blast. The players were incredibly talented and friendly, and it was wonderful to see so many community members coming out to support WASD."
The Wizards first made their Williamsport debut in 2014, grossing more than $125,000 for WASDEF and averaging a crowd of more than 1,700 people.
"This event helps support the foundation's work in providing need-based funds or grants for innovative enhancements to WASD programs that fall beyond the scope of the district's budget," Hayes said. "We operate on a mission of creating powerful classrooms and inspiring futures, so every dollar raised helps to remove financial barriers to provide access to unique learning opportunities and experiences that otherwise would not be available to our students."
During the 2021-2022 school year, WASDEF awarded $212,451 in grants and scholarships and facilitated the receipt of an additional $40,593 in grants from external sources.
"The success of this year's Wizards event is due in large part to our generous sponsors — particularly Geisinger, our presenting sponsor," Hayes said. "We're grateful for all of their support, which was huge for us this year and we can't thank them enough."
Tammy Anderer, chief administrative officer for Geisinger North-Central Region, said the hospital system greatly values community partnerships and is grateful for having the opportunity to be a part of the event.
"The Williamsport Area School District Education Foundation provided the best opportunity to get out of our pandemic mindset and enjoy basketball and community," Anderer said. "The Harlem Wizards, mixed with the families and children, made for a fantastic event raising significant funds."
Other sponsors included EQT as the Home Team sponsor; Staiman's Recycling as the Slam Dunk sponsor; Baker Tilly, C&N, and Hudock Capital as Fast Break sponsors; and Bayada Health Care as a Swish sponsor.
The WASD Education Foundation is the recognized nonprofit affiliate of the school district. The education foundation facilitates charitable giving and permanent legacies based on individual areas of interest in educational innovation, the arts, athletics and scholarships. For more information on the foundation, visit www.wasdeducationfoundation.org.
###