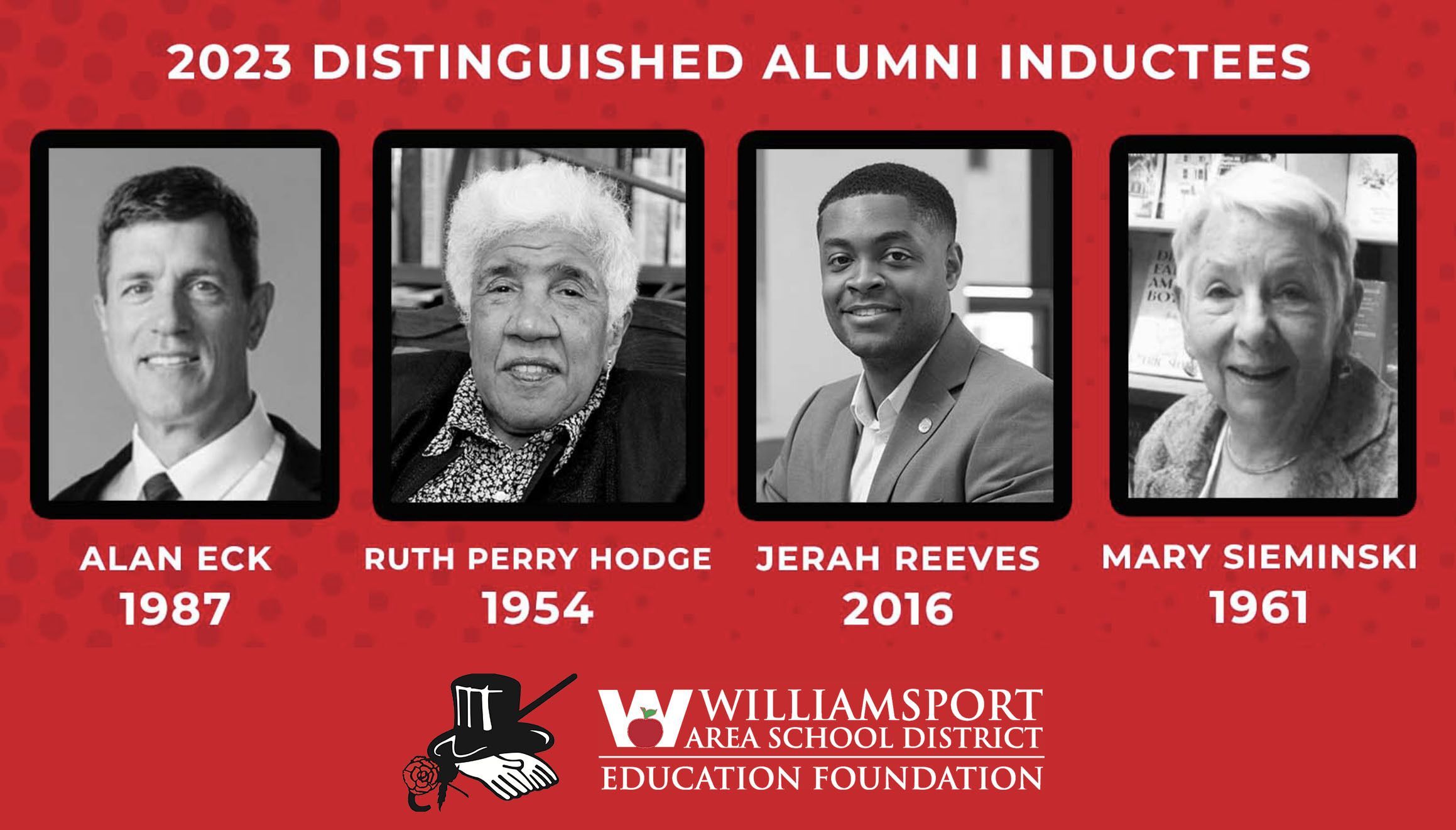 WILLIAMSPORT, Pa. (AUGUST 31, 2023) — The Williamsport Area School District Education Foundation (WASDEF) has named four Williamsport Area High School alumni who will receive its 2023 Distinguished Alumni awards.
The following individuals have been notified of their selection and have been invited to accept their award at WASDEF's first Cherry & White Appreciation Night on Sept. 21 at the Trachte Music Center at Lycoming College.
Alan Eck '87 will receive the Distinguished Alumni Achievement Award.
Eck earned a Bachelor's degree in Accounting from Bloomsburg University (BU) in 1991. During his time at BU, he showcased his talent not only in academics but also on the football field, serving as the starting quarterback from 1989 to 1991. During his final season, he was awarded the team MVP title. Notably, he still holds the record for the highest number of completions in a single season at the university.
He earned his CPA license in 1996, and later his Master's degree in Taxation from Georgia State University in 2001.
With a career spanning 31 years in accounting, he retired from the corporate sector on Aug. 1, 2023, as the senior tax manager for a prominent $5 billion construction company.
Beyond his achievements in the financial realm, Eck made a name for himself in the world of sports officiating. Over a span of 14 years, he officiated college football games, including an impressive 11 post-season assignments. His officiating journey took him through various conferences, from the Southern Intercollegiate Athletic Conference in Division 2 (2003-2006) to the Big 12 Conference (2013-2015) in Division 1.
He expanded his officiating prowess to indoor football, dedicating 11 seasons to this endeavor and overseeing three championship games.
In 2016, his officiating skills earned him a place in the NFL. His journey in the league reached a pinnacle in 2021 when he officiated a divisional playoff game between Buffalo and Kansas City. The following year, he officiated the NFC Championship game between San Francisco and Philadelphia. His expertise and dedication led to a well-deserved promotion to the role of referee in 2023, marking a significant milestone in his career.
He resides with his wife, Michelle, in Cumming, Ga.
Ruth Perry Hodge '54 will receive the Distinguished Alumni Humanitarian Award.
After graduating from WHS in 1954, she earned a Bachelor's degree in Business Administration from Lycoming College.
She settled in Carlisle, Pa., in 1959 after marrying her late husband, Marcus. There, she began her career as a clerk stenographer at Carlisle Barracks in 1960. Her 1973 Master's in Library Science from Shippensburg University propelled her 33-year career at the US Army War College and the US Army Military History Institute. Pioneering dialogue, she organized the groundbreaking Conferences on African Americans in World War II in 1992 and 1993.
Transitioning to archivist at the Pennsylvania State Archives from 1993 to 2001, she authored the acclaimed "Guide to African American Resources" at the Pennsylvania State Archives, receiving the MARAC M. Miller Finding Aid Award in 2000.
Her community impact reverberated at the Cumberland County Historical Society. She played a pivotal role in naming Carlisle High School after Emma Thompson McGown, an African American educator.
Recognition followed her journey, including receipt of the Angela R. Kyle Outstanding Alumnus Award from Lycoming College, the Department of the Army Achievement Medal for Civilian Service, and the 2020 Historian of the Year Award from the Cumberland County Historical Society. She earned the Lifetime Achievement Award from Shippensburg University and the Albert Nelson Marquis Who's Who Achievement Award.
Today, she resides in Carlisle.
Jerah Reeves '16 will receive the Distinguished Young Alumnus Award.
Reeves is an accomplished young professional with a diverse educational background and a strong commitment to leadership development. He earned a Bachelor's degree in Communications and Business from the University at Albany in 2020 and his Master's degree from Canisius University in 2021.
He embarked on his career journey at Binghamton University in 2021, where he played a pivotal role in pioneering an innovative undergraduate student leadership development program known as the Transformational Leaders Program. This program focuses on equipping students with sustainable leadership skills to become influential leaders within their communities and beyond. Under his guidance, this curriculum gained national recognition, earning the Transformational Leaders Program a place among "INSIGHT Into Diversity" magazine's Inspiring Programs.
He is the founder of Level Up Gen-Z, an information and technology company dedicated to providing forward-thinking educational resources and consulting services to educational institutions and organizations. With a deep understanding of the potential young people hold, he leverages his expertise to guide them towards building momentum and realizing their full potential. He has authored four comprehensive courses designed to equip students with essential life skills for success.
He's in pursuit of his doctorate degree, further dedicating himself to finding innovative solutions to empower the next generation of leaders.
He resides in Binghamton, NY.
Mary Sieminski '61 will receive the Distinguished Alumni Service Award.
Sieminski earned a Bachelor's degree in English Language and Literature at Bucknell University. In addition, she earned two Master's degrees, one in American Literature from Boston University and another in Library and Information Science from Simmons University.
Her commitment to championing women's rights has defined her life, which is prominently showcased in her role as the project manager for the Lycoming County Women's History Project. Recognizing the historical oversight of local women's stories, she collaborated with the Lycoming College Snowden Library, the James V. Brown Library and the Lycoming County Historical Society in 2006 to create an online archive celebrating these often overlooked figures.
Leading a dedicated team of researchers and contributors, she emerged as the guiding force, lending her voice to the collection. She has shared her insights with numerous women's groups and historical societies, a true advocate for shining light on women's accomplishments. Her dedication birthed the monthly newspaper column "Williamsport Women," now "Lycoming County Women," which chronicles the impactful lives of individual women and women's groups that have shaped the Williamsport community.
For many years she also served as the associate director of the Goddard Library at Clark University in Worcester, Mass., before returning to Williamsport in 1997, when she assumed the position of director at the Madigan Library at Pennsylvania College of Technology. Even in retirement, her passion remained alive as she embarked on a "temporary" role back at the Snowden Library, one that evolved into a decade-long endeavor, culminating in the inception of the Women's History Project.
Her work has earned her several awards over time, including the YWCA Northcentral PA's Women of Excellence Award, Volunteer of the Year Award to the Lycoming County Women's History Collection from the Lycoming County Historical Society, and the John W. Lund Community Award from Clark University.
She resides in Montoursville with her husband, Richard.
This year included, 23 graduates have received Distinguished Alumni awards since the program began in 2012. For a full listing of previous inductees, or for more information on the program, visit www.wasdeducationfoundation.org.
WASDEF is a recognized nonprofit affiliate of the Williamsport Area School District. The education foundation facilitates charitable giving and permanent legacies based on individual areas of interest in educational innovation, the arts, athletics and scholarships. For more information, visit www.wasdeducationfoundation.org.
###